TOLEDO — Scores were kept, which meant that technically there were winners and losers on Saturday, June 5, when student-athletes from Siuslaw High School faced off against youths from the Lincoln County 4-H Club in a trap-shooting event at the Toledo VFW gun range. However, the expressions on the faces of participants told a different story.
Between random rain showers and bouts of sunshine, everyone in attendance, from spectators to coaches, officials, athletes and beyond, wore smiles, regardless of what the score sheet said. And when it was over, Lincoln County scored the team victory, 324-308.
In the individual competitions, Waldport High School freshman Gabe Catalfamo won a shoot-off with Siuslaw's Collin Barnett to earn the boys championship. Catalfamo and Barnett finished two rounds of shooting with identical scores of 45 out of a possible 50 points. In the shoot-off, Catalfamo hit all five of his targets, while Barnett hit four.
Ben Spangler from Lincoln County 4-H placed third with 38 points.
Newport High School senior Daisy O'Hearn claimed girls medalist honors with a score of 32. Siuslaw's Morgan Dale won a shoot-off for second place over Lincoln County 4-H athlete Shay Borton after both tallied 31 during regular competition. In the shoot-off, Dale hit all five targets compared to just one by Borton.
"It was a very close match as (the Vikings) have several very good shooters who will be coming back next year," Dave Boyce, Lincoln County 4-H youth shooting coach said. "We were challenged by an upcoming team. The match could have gone either way."
Ten total scoring athletes from each school competed in two rounds of 25-target competition. Boyce, who ran Saturday's event with a laser focus on firearm safety and efficiency and who also coaches the Lincoln County shooters when not officiating competitions, said his 4-H team is an Oregon Youth Education in Shooting Sports squad that's faced several other teams this school year.
"We shot well, and once again, a 2 3/4 inch 12-gauge shotgun shell makes everyone equal as it and the gun do the same thing every time," Boyce said. The only control the shooter has is after they have learned the correct shooting position and allow muscle memory and gun fit to work. It really becomes a mental game."
Newport High School freshman Joelie Terry, who earned a score of 21 of a possible 50 points, said she enjoys the sport because it helps hone her ability to focus, something she carries with her off the shooting range.
"I love it because it gets you focused," Terry said. "In your average, everyday life, there's always so much going on, and you never really get a chance to focus on what's ahead of you. This really teaches you how to learn to focus yourself."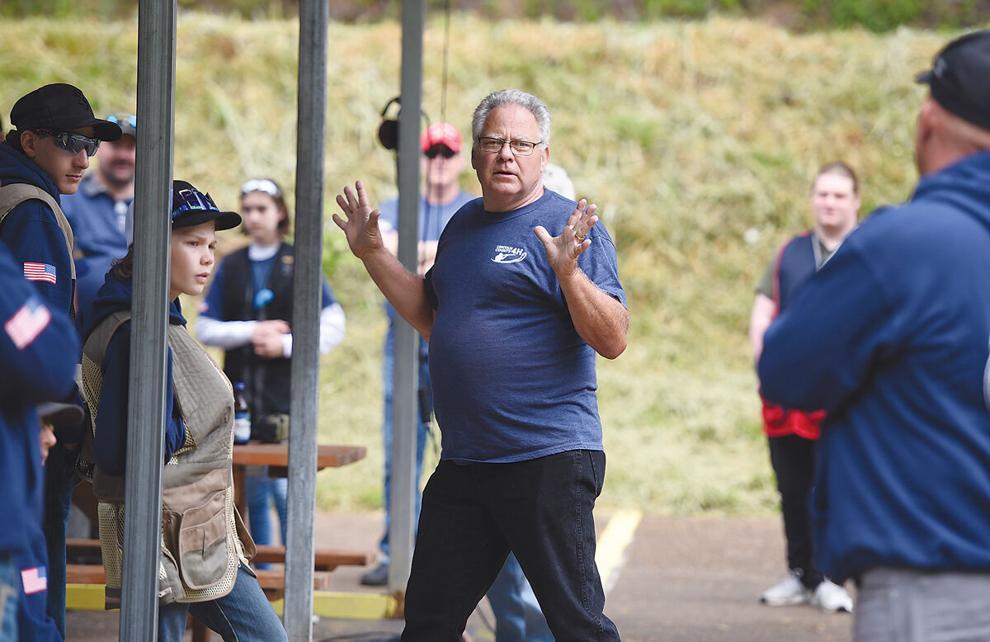 The teams meet again this coming weekend in Florence, but Boyce said Saturday's event was a rousing success.
"Both teams had a fun day, and with the shoot-offs for first place in boys and second place in girls, it was as good as it gets," he said. "We're looking forward to competing against them next Saturday in Florence.
Siuslaw High School vs. Lincoln County 4-H trap match
June 5 at Toledo VFW
Team scores: Lincoln County 4-H 324, Siuslaw High School 308.
Girls results — 1, Daisy O'Hearn, Lincoln County, 18-14—32; *2, Morgan Dale, Siuslaw, 12-19—31; 3, Shay Borton, Lincoln County, 15-16—31.
*Dale def. Borton in shoot-off tiebreaker.
Boys results — *1, Gabe Catalfamo, Lincoln County, 24-21—45; 2, Collin Barnett, Siuslaw, 23-22—45; 3, Ben Spangler, Lincoln County, 16-22—38.
*G. Catalfamo def. Barnett in shoot-off tiebreaker.
SIUSLAW HIGH SCHOOL (308) — Sylas Gorder 17-10—27; Kyler Hammerberg 11-9—20; Terry Elliott 11-14—25; Morgan Dale 12-19—31; Josiah Masciotra 10-9—19; Wade Richmond 16-20—36; Dane Circle 21-15—36; Collin Barnett 23-22—45; Ross Richmond 15-17—32; Hunter Pimlott 17-20—37.
LINCOLN COUNTY 4-H (324) — Revere Mullins 11-15—25; Joelie Terry 7-14—21; Shay Borton 15-16—30; Luke Pettis 14-16—30; Trenttain Bruce 17-15—32; Carter Borton 15-16—31; Jake Carlson 11-17—28; Gabe Catalfamo 24-21—45; Daisy O'Hearn 18-14—32; Owen Catalfamo 17-14—31; Ben Spangler 16-22—38.
Elsewhere:
SWIMMING
Newport at Coos Bay meet
At Coos Bay, the Newport High School girls and boys swim teams each placed third Friday, June 4, at the four-school meet. The Cubs sent only four male competitors and seven girls to the event.
The North Bend girls tallied 92 points to edge Marshfield by a single point for first place. Newport scored 82 and Reedsport scored 12.
Freshman Layla Bretz was the Newport girls' top performer, earning individual victories in the 50-yard freestyle and 100 backstroke. The Cubs girls also received second-place finishes from freshman Claire Hurty in the 500 freestyle, and from sophomore Ana Kaldy in the 200 freestyle.
Cubs freshman Pia Lihou earned third-place finishes in the 100 backstroke and 100 butterfly for Newport, and Hurty took bronze in the 200 freestyle.
The Cubs boys totaled 21 points behind freshman Sam Postlewait, who won the 100 backstroke and placed second in the 200-yard individual medley. Newport junior Peter Perucci contributed a second in the 100 butterfly and placed fifth in the 100 breaststroke.
The Cubs return to competition at 4:45 p.m. Monday, June 14, when they host Taft and Toledo.
Newport at Coos Bay meet
June 4
Girls team scores: North Bend 92, Marshfield 91, Newport 82, Reedsport 12.
Boys team scores: North Bend 116, Marshfield 99, Newport 21, Reedsport 2.
Blanchet Catholic at Taft
At Lincoln City, the Taft boys team posted a dominating victory June 4 during a boys and girls dual meet with Blanchet Catholic.
Junior Sam Cortes was the workhorse for the Tiger boys, who won the team competition 104-29. Cortes claimed individual victories in the 200-meter freestyle and 100 breaststroke. Cortes also swam legs in Taft's winning 200 medley and 400 freestyle relay teams.
The Tigers boys also received wins from junior Angel Moreno in the 50 freestyle, junior Dylan Barrera in the 100 butterfly and the 400 freestyle and sophomore Mugen Evenson in the 100 backstroke and the 200 individual medley.
The Taft girls, paced by sophomore Lesley Lagunes and junior Charlotte Lunstedt, scored 33 points, while Blanchet Catholic won the competition with 71. Lagunes won the 200 freestyle and the 100 butterfly. Lunstedt added victories in the 50 and 100 freestyle races. Taft junior Sayge Ulrich earn a win in the 100 breaststroke.
Blanchet Catholic at Taft
June 4 at Lincoln City
Girls team scores: Blanchet Catholic 71, Taft 33.
Boys team scores: Taft 104, Blanchet Catholic 29.
WRESTLING
Siletz duals
At Siletz, the Siletz Valley/Eddyville Charter wrestling program hosted a June 4 meet with Toledo, Waldport, Sheridan and Knappa.
Though limited results were available, Tanner Clark won twice for the Warriors, earning a pin at 182 pounds over Boaz Simonds of Toledo and a 2-1 decision in overtime over Toledo's Ash Blomstrom.
At 152 pounds, Siletz/Eddyville senior Xander Sweat collected pins over Jacob Morey of Knappa and Liam Morgan of Waldport. Joshua Johnson went 1-1 on the day at 160 pounds for Siletz/Eddyville and teammate Brayden Mekemson had a pin and two defeats for Siletz/Eddyville a 145 pounds.
BOYS BASKETBALL
Toledo remains undefeated
The Boomers improved to 6-0 in 2A-4 Sunset Conference play and overall with a pair of lopsided late-week league wins.
After defeating Bandon 65-33 on the road June 3, Toledo returned home June 5 to down Gold Beach, 66-34. Details from both games weren't provided to the News-Times prior to deadline.
The Boomers were scheduled to travel Monday to Coquille before meeting Myrtle Point/Powers at 5:30 p.m. Wednesday at home.
Irish win twice
At Waldport, junior Zak Holsey continued his assault on 2A-4 Sunset Conference defenses in a pair of Irish home wins late last week.
In Waldport's 71-25 defeat of Reedsport, Holsey, the reigning OSAA boys Athlete of the Week, tallied a team-leading 21 points. Irish junior Levi Fruechte added 19 points.
Waldport won the rebounding battle 45-18, paced by Ryan Pettyjohn's 11 boards. Tristan Luparders added eight rebounds for the Irish.
Holsey exploded for 40 and Fruechte dropped in 23 in Waldport's 68-61 win June 5 against Gold Beach.
The Irish (4-3 in league and overall), winners of four of their last five, were scheduled to travel Wednesday (today) to face Bandon (6-1, 7-1).
Woodburn 53, Newport 45
At Woodburn, the Cubs lost their fifth straight on June 3 in a 4A-3 Oregon West Conference contest.
Newport, which slipped to 1-2 in league action and 1-6 overall, was slated to travel Tuesday to meet Yamhill-Carlton before the Cubs host Sisters at 6 p.m. tonight (Wednesday).
The Cubs earned their lone win of the season against Sisters in a 43-46 victory May 25 on the road.
Harrisburg 68, Taft 24
At Harrisburg, the 3A-Coastal Range League Tigers were still searching fore their first win of the season after dropping a 68-24 nonconference decision June 3 at Harrisburg.
Taft (0-8) was scheduled to return to the hardwood at 7 p.m. Tuesday when it hosts league-foe Willamina (4-2).
GIRLS BASKETBALL
Toledo falls twice
After the Boomers fell 66-23 on June 3 at undefeated 2A-4 Conference-rival Bandon, Toledo returned home June 5 and fell 55-34 to Gold Beach.
Details from both contests were unavailable as of the News-Times sports' deadline.
The Boomers (1-5, 1-5) were slated to return to action Monday at Coquille in a league game.
Irish stay hot
At Waldport, the Irish extended their winning streak to five games after earning a 43-10 defeat of Reedsport on June 3 before knocking off Myrtle Point 57-39 on June 5 in a pair of 2A-4 Sunset Conference wins.
Waldport, which upped its record to 6-1 in league, 6-2 overall, will look to avenge its lone league defeat and claim a share of first place in the Sunset Conference standings when the Irish travel today (Wednesday) to take on Bandon (7-0, 8-0).