NEWPORT — The Newport High School softball team began the week on a mission. After the Cubs posted victories within the friendly confines of the Yaquina View Softball Complex over Cascade on Monday, May 10, and two days later against Philomath/Alsea, consider that mission accomplished.
Newport started the final week of 4A-3 Oregon West Conference play needing to avenge the two losses on the Cubs' league slate in order to earn a share of the conference title. They did just that in exemplary fashion, riding some timely hitting and the pitching of senior Hattie Imbler-Bremner to an 8-0 blanking Monday of the Cougars before Imbler-Bremner notched her second shutout of the week Wednesday in a 7-0 win over the Warriors.
Newport (10-2 overall) closed the league season at 9-2, having finished conference play on a five-game winning streak. Cascade completed league play at 10-2, with one more game played because of a canceled May 3 game between Woodburn and Newport.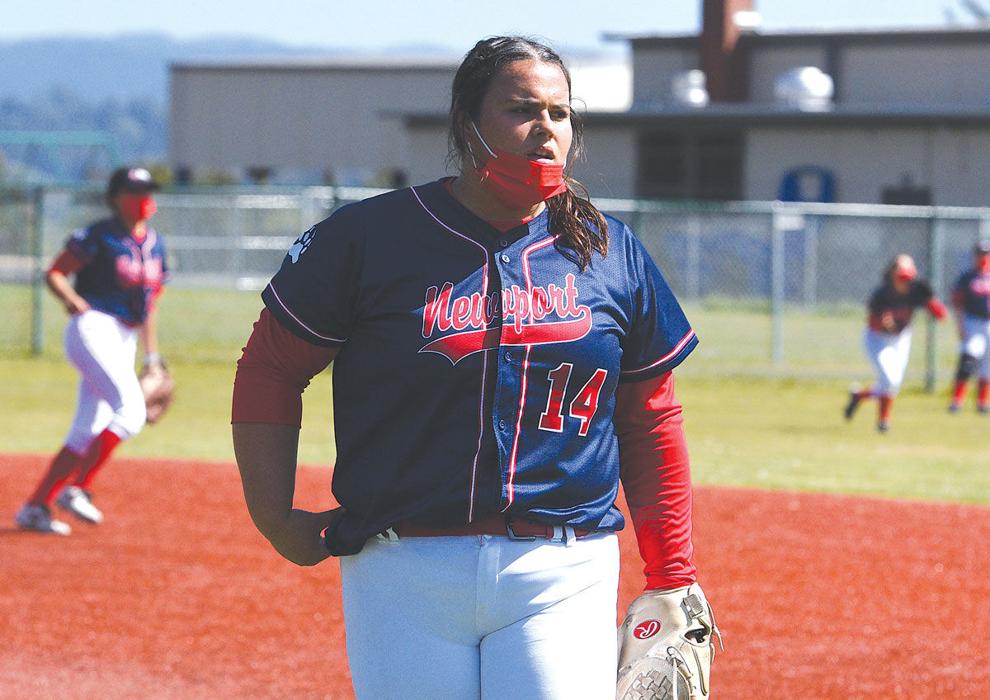 Imbler-Bremner, who committed to continue her academic and softball careers in the fall at North Idaho College in Coeur d'Alene, Idaho, dominated in her two complete-game outings. She allowed four hits and struck out 12 as Cascade's seven-game winning streak came to a screeching halt.
On Senior Night against Philomath, in her final regular season home start, Imbler-Bremner was even better, surrendering only two hits and no walks while fanning 10. Imbler-Bremner faced just two batters over the minimum Wednesday as the Cubs played errorless defense behind her.
"Hattie is always a major key to our success, but she's always ready to go," Newport head coach Mark Schiewe said after Wednesday's win. "By far she's the best pitcher in our league, and probably one of the best pitchers in the state. Period. I'm glad to see it all come together for her."
Though Imbler-Bremner was perfect through four innings Wednesday against the Warriors, the Cubs' bats were held in check until sophomore centerfielder Taylor Schaffer's two-out, two-run single in the bottom of the fourth got Newport on the board.
Newport senior third baseman Erika Schones made her final two regular season home at-bats count, driving in one with a fifth-inning single, and scoring two more with a double in the sixth.
Schiewe thinks Wednesday's win clinched the Cubs a berth in next week's eight-team 4A state playoffs, though details and postseason scenarios hadn't been sorted out prior to the News-Times sports deadline. Regardless, with just a scheduled non-conference game today (Friday) at Astoria remaining on the regular slate, Schiewe thinks his team is playing its best ball when it matters most.
"It just seems like we just got better the whole season, and it's nice as a coach to see it kind of gel at the end," Schiewe said.
May 12
Philomath
000 000 0 — 0 3 1
Newport
000 232 x — 7 10 0
Ahnika Tryon, Kamden Combs (4) and Reagan Larson. Hattie Imbler-Bremner and Kalea Blodgett. W — Imbler-Bremner. L — Tryon.
PHILOMATH — Mikaila Saathoff 0-3, Larson 0-3, Emily King 0-3, Melanie Baldwin 1-3, Mia Bennett 0-3, Kyla Berger 1-2, Ashlynn Barron 0-2, Tryon 0-2, Presley Reichhuber 0-2, Combs 0-0.
NEWPORT — Blodgett 1-3, Erika Schones 2-4, Imbler-Bremner 1-4, Haley Wiles 0-3, Stevie Singler 1-2, Madelene Baley 3-3, Emma Schaffner 0-3, Taylor Schaffner 2-3, Victoria Johnson 0-3.
2B — Baldwin, Schones. RBIs — Schones 3, Singler, Baley, T. Schaffner 2.
Elsewhere:
Taft 11, Monroe 1
At Monroe, the Tigers improved to 7-6 with a Monday, May 10, non-league defeat of the Dragons.
Taft was scheduled to visit Toledo on Thursday in another non-conference affair.
Irish end season
Waldport closed the season with a 7-0 defeat Tuesday, May 11 at Reedsport before dropping both halves of a Wednesday doubleheader at Coquille.
The Irish, who finished the season 3-9 in 2A/1A-SD4 play and overall, fell 12-0 and 20-6 at Coquille.
BASEBALL
Toledo 16, Harrisburg 4
At Toledo, the Boomers won their 12th straight in the lopsided non-league victory.
Toledo, the 2A/1A-SD5 Special District 5-champion at 11-1, 12-1, was scheduled to finish the regular season Thursday at home against Siletz Valley/Eddyville Charter.
Philomath/Alsea 21, Newport 3
At Philomath, the loss dropped the Cubs to 6-5 in 4A-3 Oregon West Conference play and overall.
Newport is slated to finish the regular season at noon Saturday at league-foe Cascade.
Taft 16, Willamina/Falls City
At Lincoln City, the Tigers upped their mark to 2-7 in 3A-SD2 Special District 2 and overall by with the league win.
Taft is slated to travel today (Friday) to face Westside Christian in Tualatin.
Waldport loses twice
The Irish fell 14-4 Tuesday at Reedsport and 26-1 on Wednesday at Coquille.
Waldport (3-10, 3-10) was scheduled to close the season Thursday at home against Coquille.