STAYTON —Senior Payton Cunningham led the way last weekend as the Newport High School boys won the team title at the 4A-3 Oregon West Championships district track and field meet.
Cunningham placed himself on the podium in four individual events as the Cubs tallied 139 points to best runner-up Philomath by 16 points during the two-day competition, held May 14-15 at Stayton High School. Sisters placed third with 113 points, followed by Cascade (101), Sweet Home (84), Woodburn (67) and Stayton (27).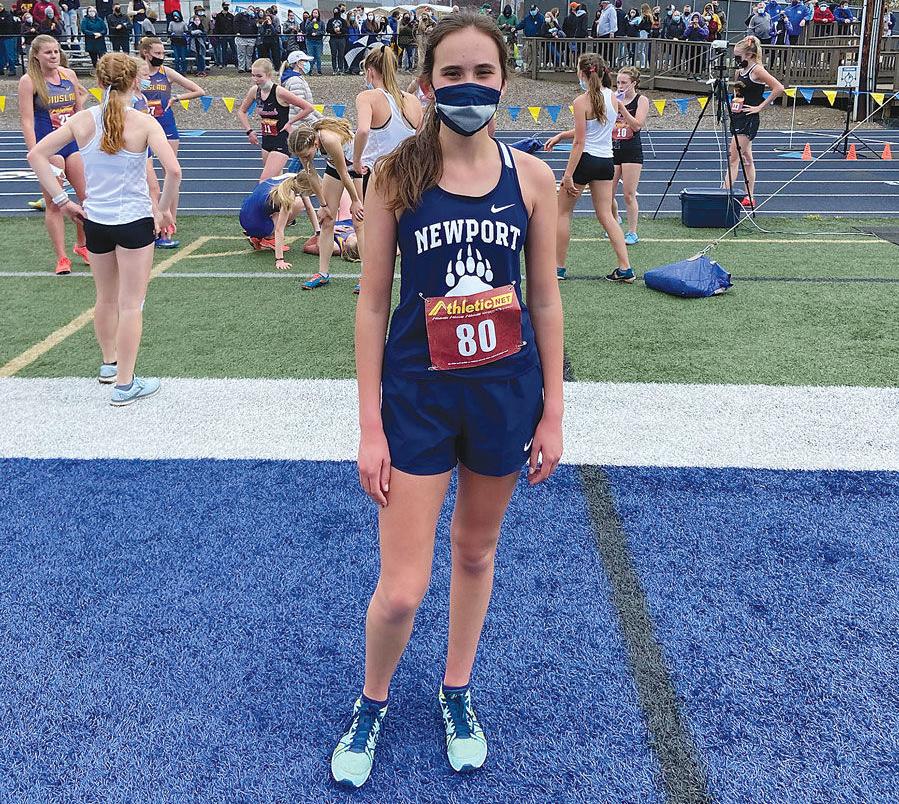 Cunningham placed second in the 110-meter hurdles, 300 hurdles and discus, and finished in third in the long jump competition. Cubs junior Noah Daniels won the discus competition with a distance of 123-1 feet.
Newport junior Quintin Travis set a personal best mark in winning the triple jump with a distance of 40-7 1/2 feet and earned a fourth-place finish in the high jump with a height of 5-10. Newport senior Larell Covington posted a second-place finish in the long jump.
Cunningham advanced to this weekend's 4A State Track & Field Championships, scheduled for Friday and Saturday at Siuslaw High School in Florence, in both hurdles events, the discus and long jump. Also at the state meet, Daniels will compete in the discus, Travis is entered in the high jump and triple jump, and Covington will compete in the long jump.
In the girls competition, Newport tallied 89 points to finish in fourth place behind Philomath (148.5), Cascade (121) and Sisters (102).
The Cubs girls are slated to send junior Aliya Larsen and senior Erika Schones to the state meet after each posted individual event wins. Larsen won both the 1,500 and 3,000 meters at the district meet, and Schones, who also stars on the Cubs' league-winning softball team, won the district javelin title.
4A-3 Oregon West Championships
May 14-15 at Stayton High School
Girls team scores: Philomath 148.5, Cascade 121, Sisters 102, Newport 89, Sweet Home 71, Stayton 61.5, Woodburn 54.
Boys team scores: Newport 139, Philomath 123, Sisters 113, Cascade 101, Sweet Home 84, Woodburn 67, Stayton 27.
Elsewhere:
Taft competes at districts
At Amity, the Taft High school track and field teams posted strong showings May 12 and 13 at the 3A-SD2 championships.
The Tiger girls, paced by sophomore Makaia Kessinger, placed second with 91 points. Blanchet Catholic was the girls team champion with 147 points. Kissinger placed second in the 800 meters and took fourth in the 3,000 meters. She was scheduled to compete Tuesday in both events at the 3A Track & Field Culmination Championship Meet at Legends Field in Harrisburg.
Also following last week's district meet, Taft freshman Noelle Adams advanced to state in the 100 and 300 hurdles, senior Avery Nightengale qualified in the pole vault, junior Kadence James qualified in the high jump, junior Arianna Moralez qualified in the long jump and the Tigers' 400-meter relay was also slated to travel to compete at the state meet.
On the boys' side, Taft took sixth with 68 points behind Amity (129.5), Yamhill-Carlton (119), Blanchet Catholic (88), Scio (73.5), and Santiam Christian with 73.
The Tiger boys were led at the district meet by senior JJ French, who won the 110 and 300-meter hurdles and the pole vault competition to advance to state. Juan Jose Lupercio-Rubio placed fourth in the long jump and sixth in the high jump to qualify for state. Taft junior Austin Winters will compete in the 400 for Taft at state, and Brayan Mateo-Perez qualified in the 100.
3A-SD2 Championships
May 12-13 at Amity High School
Girls team scores: Blanchet Catholic 147, Taft 91, Amity 84, Santiam Christian 78, Scio 78, Yamhill-Carlton 68, Willamina 55, Dayton 26.
Boys team scores: Amity 129.5, Yamhill-Carlton 119, Blanchet Catholic 88, Scio 73.5, Santiam Christian 73, Taft 68, Dayton 49, Willamina 38.
Toledo/Waldport at district meet
At Glide, the Waldport High School teams each placed fourth, the Toledo girls were sixth and the Boomer boys took ninth May 15 at the 2A-SD3 District meet at the Glide Athletic Complex.
Juniors Zak Holsey and Levi Freuchte were the Irish's top performers last weekend as the Waldport boys scored 93 points to finish behind team-champion Central Linn (248), Glide (1-8), and Oakland (107).
Holsey won the 300 hurdles and the long jump. He'll complete in both events Saturday at the 2A State Track & Field Championships at Union High School. Freuchte qualified for the state meet in the long jump with a third-place finish at districts, and he qualified in the pole vault, finishing in second place with a 10-foot leap, a personal best.
Also representing Waldport at state will be senior Graham Jones, who will compete in the shot put after placing second at the district event.
Toledo will send two athletes to state — senior Markus Cross, who qualified in the discus, and junior Klaira Flatt, set to compete in the 400, 300 hurdles, the triple jump and long jump.
Cross took third in the district meet discus competition, and Flatt was second in the 400, and won the 300 hurdles, triple jump and long jump.
3A-SD3 Championships
May 15 at Glide Athletic Complex
Girls team scores: Oakland 142, Glide 118.5, Central Linn 87, Waldport 54, Reedsport 512.5, Toledo 50, Monroe 46, Lowell 40, Oakridge 27.
Boys team scores: Central Linn 148, Glide 108, Oakland 107, Waldport 93, Monroe 42, Reedsport 38, Lowell 28, Oakridge 20, Toledo 19.
SOFTBALL
Cubs win playoff thriller
At Philomath, the Newport High School softball team scored a run in the bottom of the seventh to send its league playoff game against Cascade to extra innings before Emma Schaffner's grounder to shortstop in the bottom of the eighth plated the game-winning run and sent the Cubs to victory.
With a Newport win at Philomath High School, which determined the 4A-3 Oregon West Conference champion, the Cubs (11-2) advanced to the first round of the eight-team 4A state tournament. They were scheduled to travel Tuesday afternoon to face 4A-1 Cowapa League champs Banks (14-0).
Newport and Cascade split their regular-season series, with the Cougars earning a 2-0 victory April 22 over the Cubs at home before Newport returned the favor with an 8-0 shutout of Cascade on May 10 at Yaquina View Softball Complex in Newport. This weekend's game was scheduled to decide the Oregon West Conference's top seed at state.
The Cubs earned the sixth seed at the state tournament, slated to continue with games Thursday and conclude with more competition Saturday. The outcomes of Tuesday's 4A first-round games will determine the schedule for the rest of the week.
Taylor Schaffner's sacrifice bunt scored Newport catcher Kalea Blodgett with the tying run with the Cubs down to their final out in the bottom of the seventh.
After senior pitcher Hattie Imbler-Bremner worked her way out of a leadoff single by Hannah Walliman in the top of the eighth, the Cubs completed their come-from-behind win in the bottom of the frame.
Newport sophomore Haley Wiles reached on an error, stole second and third, and junior Stevie Singler followed with a walk and stole second. With one out, Emma Schaffer's grounder to shortstop was enough to plate Wiles with the winning run.
Imbler-Bremner earned the win in the circle for the Cubs for the third time in as many games last week. In the playoff contest, she threw all eight innings, allowing 11 hits and two walks while striking out eight.
Imbler-Bremner rediscovered her stroke at the plate, collecting three singles, a walk and a home run. Her line-drive homer to left field in the bottom of the third scored Erika Schones and gave the Cubs an early 2-0 lead.
A Jaimy Bangert single in the top of the fourth cut Newport's lead in half before the Cougars scored four times in the fifth to take a 5-2 advantage. In the bottom half, Newport tallied twice, scoring on two-out base hits by Carlee Murray and Wiles to make it 6-5 Cascade after five innings.
Schones was 2-for-4 with a double and Blodgett singled twice. The top-three hitters in the Newport lineup — catcher Kalea Blodgett, third baseman Schones and Imbler-Bremner, all seniors — combined to go 7-for-11 at the plate with two RBIs.
Murray, the Cubs' regular shortstop who battled through a leg injury last week, finished 2-for-4. Wiles contributed a pair of singles to Newport's effort.
May 15 at Philomath
Cascade
000 140 00 — 5 11 1
Newport
002 020 11 — 6 11 1
Hannah Walliman and Grace Van Agtmael. Hattie Imbler-Bremner and Kalea Blodgett. W — Imbler-Bremner. L — Walliman.
CASCADE — Emma Hilfiker 3-4, Abby Jeppsen 1-4, Van Agtmael 0-4, Alexis Bales 2-3, Jaimy Bangert 1-4, Walliman 2-4, Crystal Campbell 1-4, McKenna Gramzow 0-4, Kailee Bode 1-3, Caylen Metcalf 0-0.
NEWPORT — Blodgett 2-4, Erika Schones 2-4, Imbler-Bremner 3-3, Taylor Schaffner 0-0, Haley Wiles 2-4, Stevie Singler 0-2, Madelene Baley 0-4, Emma Schaffner 0-4, Tori Johnson 0-3, Carlee Murray 2-3.
2B — Hilfiker, Bales, Campbell, Schones. HR — Imbler-Bremner. RBIs — Hilfiker, Jeppsen, Bangert, Imbler-Bremner 2, T. Schaffner, Wiles, E. Schaffner, Murray.
Toledo 2, Taft 0
At Lincoln City, the 23A/1A-SD4 champion Boomers closed the regular season May 13 with their eighth consecutive victory with a non-league shutout.
Toledo junior catcher Hannah Reed plated freshman outfielder Elka Fisher with a first-inning double before senior Morgan Hinds came home following an infield fly by Sierra Ferguson.
Junior Mariah Frederick threw the complete game for Toledo, allowing no walks and fanning five.
Toledo (13-1) was scheduled to host Western Christian (8-3) in a 2A/1A first-round state tournament game Tuesday at Toledo Elementary.
BASEBALL
Toledo 10, Siletz Valley/Eddyville Charter 1
At Toledo, senior starting pitcher Mason McAlpine threw three frames of no-hit ball May 13 as the Boomers won their 13th straight in both teams' regular-season finale.
Senior reliever Jaxon Rozewski pitched the final four innings for the Boomers, who closed the regular campaign 13-1.
The Boomers were slated to host a first-round state tournament game Tuesday against Glide. The Wildcats (10-2) dropped their final regular-season game in a 6-2 defeat May 13 at Oakland.
Coquille 10, Waldport 8
At Waldport, the 2A/1A-SD5 Irish fell May 13 to league-foe Coquille in Waldport's final game of the season.
The Irish closed the campaign on a five-game losing skid and finished 3-11.
Taft 16, Westside Christian 6
At Lincoln City, the 3A-SD2 Tigers posted their second straight victory with a non-league May 14 win.
Taft, which improved to 3-7, was slated to cap the regular campaign with a nonconference Tuesday doubleheader at home with Tillamook.
Newport 11, Cascade 7
At Cascade, the Cubs ended their season on a high note by posting the 4A-SD3 win in Newport's season finale.
The Cubs ended the season 7-5.