TOLEDO — The Toledo High School baseball team took the field Saturday, May 1, for a home doubleheader against 2A/1A-SD 5 rival Myrtle Point/Powers with all the confidence of a team fresh off avenging its lone loss of the season, and it showed.
Boomers first baseman Mason McAlpine continued his scorching senior campaign in leading Toledo to an 18-3 defeat of the Bobcats in the first contest before Toledo muscled its way to a 14-3 win in the second game. Both contests were called in the fifth inning due to the 10-run margin rule.
Earlier in the week, the Boomers, who dropped their season-opener April 15 to Bandon, avenged that defeat with a 4-1 victory April 28 on the Tigers' home field. Toledo's two wins last weekend pushed the Boomers' record to 7-1 in league and overall.
McAlpine, a senior, swung the big bat for the Boomers in the first game, finishing 4-for-4 with five RBIs. He plated three in the Boomers' eight-run third inning with a bases-loaded triple. Toledo freshman catcher Christian Retherford had three singles and drove in one, and Markus Cross doubled twice and drove in a pair.
Cross got the start on the bump for the Boomers and tossed two innings of hitless ball, striking out three while not allowing a walk. Ryder Smith took the mound in the third and closed it out for Toledo, surrendering five hits, a walk and two hit batters.
The Boomers chased Bobcats starting pitcher Tyson Hermann after three innings. Troy Warner doubled and plated a pair for Myrtle Point/Powers.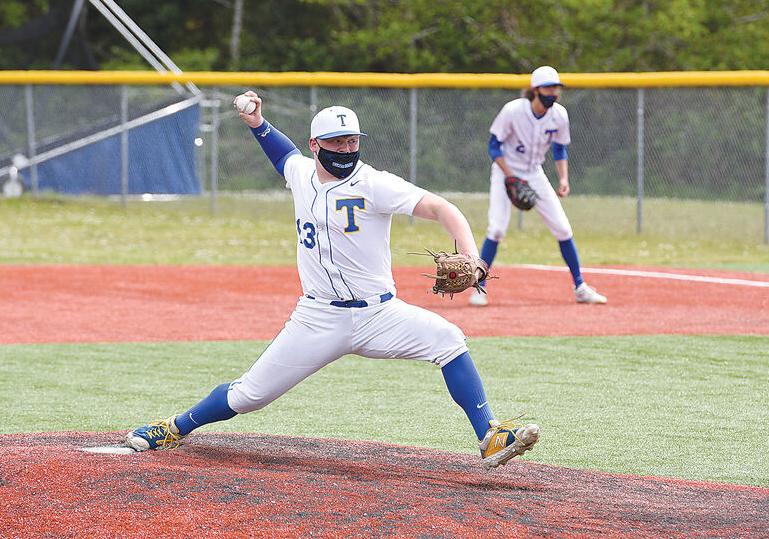 The Boomers settled in after allowing three runs in the first frame of the second contest. They broke things open with an eight-run fourth inning, highlighted by RBIs off the bats of Jaxon Rozewski, Evan Cairney, Bubba Barnhart, Sterling Buckley and Hayden Thomas.
Toledo was scheduled to host Waldport on Tuesday for a league game.
First game
MP/P 002 01 — 3 5 4
Toledo 418 5x — 18 17 1
Tyson Hermann, Logan Backman (4) and Jake Koser. Markus Cross, Ryder Smith (2) and Christian Retherford. W — Cross. L — Hermann.
MYRTLE POINT/POWERS — Backman 1-3, Tyrus Heim 1-1, Hermann 1-2, Troy Warner 1-3, Koser 0-3, Billy Reynolds 0-2, Logan Clayburn 1-2, Carter Northup 0-2.
TOLEDO — Coren Loper 1-2, Mason McAlpine 4-4, Retherford 3-4, Cross 2-3, Zachary Tucker 0-0, Jaxon Rozewski 0-2, Bubba Barnhart 0-1, Hayden Thomas 3-4, Jacob Long 4-4, Sterling Buckley 0-1, Smith 1-2, Evan Cairney 0-3, Cooper Rothenberger 0-0.
2B — Warner, Clayburn, Cross 2, Smith. 3B — McAlpine. RBIs — Hermann, Warner 2, McAlpine 5, Retherford, Cross 2, Barnhart, Thomas 2, Long 4, Smith.
Elsewhere:
Gold Beach sweeps Irish
At Waldport, the Irish dropped both halves of a Saturday, May 1, twin bill against Gold Beach, falling 16-10 in the first game and 23-14 in the nightcap.
With the losses, Waldport fell to 2-5 in 2A/1A-SD 5 games and overall.
No details from either game were reported to the media prior to the News-Times sports' deadline.
TRACK AND FIELD
Waldport at 2A
District 3
At Oakland, the Waldport boys placed second in the team standings, and the Irish girls were third Thursday, April 29, at the four-team 2A District 3 meet at Eddy Field.
Juniors Zak Holsey and Levi Fruechte paced the Waldport boys to their second-place finish. The Irish finished with 68.5 points, while Central Linn won the team title with 80.5. Oakland was third with 62 points and Camas Valley scored 22.
Holsey scored individual victories in the 300 hurdles and the long jump and placed second in the high jump. Fruechte won the pole vault competition, placed second in the long jump and third in the high jump.
Graham Jones set personal bests in winning the shot put with a distance of 38 feet, 2 inches, and taking second in the discus with a heave of 96-0 1/2. Also for the Irish, Lucas Firshee was third in both the 800 and 1,600 meters, and ran the first leg in Waldport's winning 1,600 relay effort.
Oakland won the girls team championship with 108 points and was followed by Central Linn with 51, Waldport at 37 and Camas Valley with 22.
Waldport sophomore Iris Donovan won the 800 meters and contributed to the school's winning 1,600 relay and its second-place 400 relay. Irish senior Jessica Dooley added second-place finishes in the 200 and the pole vault.
2A District 3 meet
Thursday, April 29 at Eddy Field, Oakland
Girls team scores: Oakland 108, Central Linn 51, Waldport 37, Camas Valley 22.
Boys team scores: Central Linn 80.5, Waldport 68.5, Oakland 62, Camas Valley 14.
Taft at Warrenton Invite
At Knappa High School, backed by wins in both relay events and two individual victories from freshman Noelle Adams, the Taft High School girls won the team championship Friday, April 30, at the Warrenton Invitational track and field meet.
Adams won the 100 meters in 14.6 seconds and claimed the 100 hurdles title by finishing in 19.44 seconds. Aliviah Mode, Lilly Parker, Kaydince Beach and Arianna Moralez combined to win the 400 relay in 56.19 seconds for the Tigers, and Moralez, Beach, Mode and Makaia Kessinger combined to take the 1,600 relay for Taft.
The Tigers won the team championship with 54 points. Clatskanie was second with 37, followed by Warrenton with 28 and Rainier with 20.
Warrenton claimed the boys team title with 77 points, followed by Clatskanie (28), Taft (17), Knappa with 12 and Rainier with 10 points.
Taft junior Brayan Mateo-Perez was the top individual performer for the Tiger boys, winning the 100 meters in 12.0 seconds and placing second in the 200 meters. Taft earned second-place finishes in the 400 and 1,600 relay races.
Warrenton Invitational
Friday, April 30 at Knappa High School
Girls team scores: Taft 54, Clatskanie 37, Warrenton 28, Rainer 20.
Boys team scores: Warrenton 77, Clatskanie 28, Taft 17, Knappa 12, Rainier 10.
Toledo at District 3 league meet
At Reedsport, a day before pitching the Boomers to victory on the Toledo baseball diamond, Markus Cross paced the Boomers boys track and field team to the championship Friday, April 30, at the District 3 league meet.
Cross won the discus and shot put competitions and placed fourth in the javelin as the Boomers earned 115 points to best runner-up Monroe by eight. Reedsport was third with 70 points, and Lowell tallied 34. Cross' heave of 33 feet, 6 inches topped the field in the shot put, and his personal-best mark of 97-1 earned the senior the discus title.
Toledo sophomore Xander Hartsock won the triple jump and placed in second in the 100, 200 and the high jump. Boaz Simonds won pole vault for the Boomers and tied for third in the 100 with teammate Reece Smith. He chalked up second-place finishes in the high jump and pole vault and placed third in the long jump.
Sophomore Avery Tyler and junior Klaira Flatt were the top Toledo performers in the girls competition. Tyler won the 100 meters and was second in the javelin and third in the 200. Flatt won the triple jump, finished second in the 400 and high jump and earned a third-place finish in the long jump.
Reedsport was the girls team medalist with 111 points. Monroe was second with 74, followed by Toledo with 66 and Lowell with 44.
District 3 league meet
Friday, April 30 at Reedsport
Girls team scores: Reedsport 111, Monroe 74, Toledo 66, Lowell 44.
Boys team scores: Toledo 115, Monroe 107, Reedsport 70, Lowell 34.
Newport at Philomath Invite
At Philomath, the Newport boys ran away with the team title on Saturday, May 1, at the six-school Philomath Invitational.
The Cubs boys tallied 146 points, while second-place Cascade scored 108, and Philomath earned bronze with 103.
Senior Payton Cunningham led the way for Newport, posting wins in the 100-meter hurdles and the discus, placing second in the 300 hurdles and third in the long jump. Classmate Larell Covington posted second-place finishes for Newport in the 200 and the long jump, and Cubs junior Quintin Travis won the high jump and was the runner-up in the triple jump.
The Newport girls scored 110 points to earn third place. Philomath won with 147 and Cascade closed with 111 to finish second.
Junior Stella Barber turned in the Cubs' top female performance by winning the 200 meters, placing fifth in the shot put and earning second in the long jump. Aliya Larsen won the 3,200 for Newport, and Erika Schones received medalist honors in the javelin.
Philomath Invitational
Saturday, May 1
Girls results: Philomath 147, Cascade 111, Newport 110, Sweet Home 66, Woodburn 48, Stayton 41.
Boys results: Newport 146, Cascade 108, Philomath 103, Sweet Home 96, Woodburn 44, Stayton 29.
SOFTBALL
Newport wins a pair
The Cubs closed out the week with two wins, posting a 15-0 blanking April 29 on the road at Sisters before picking up a 4-2 victory the following day at home against Yamhill-Carlton.
Senior pitcher Hattie Imbler-Bremner was a force in the circle and at the plate for the Cubs in their defeat of Sisters in a game called after five innings due to the 10-run margin rule.
On the pitching rubber, Imbler-Bremner took a perfect game into final frame before allowing a Payden Petterson single, the only hit Imbler-Bremner surrendered. Imbler-Bremner struck out 11 and didn't issue a walk. On offense, Imbler-Bremner smacked two home runs and a double in her 3-for-4 outing and drive in a game-high six runs.
Erika Schones doubled and collected two RBIs for Newport, and Hailey Wiles went 4-for-4 with a double and drove in three.
Imbler-Bremner again went the distance in the circle for the Cubs, tossing seven frames of four-hit ball and allowing two walks and striking out 13 Tigers for the Cubs, who improved to 5-3 in 4A-3 Oregon West Conference play and overall.
Blodgett singled twice and drove in a pair to pace the Newport bats.
April 29
Newport
335 40 — 15 18 0
Sisters
000 00 — 0 1 3
Hattie Imbler-Bremner and Kalea Blodgett. Payden Petterson and Anessa Stotts. W — Imbler-Bremner. L — Petterson.
NEWPORT — Blodgett 3-4, Erika Schones 3-5, 3-5, Imbler-Bremner 3-4, Carlee Murray 0-4, Emma Schaffner 2-3, Haley Wiles 4-4, Taylor Schaffner 1-4, Alexa Cleveland 0-1, Tori Johnson 1-2, Kaylee Hart 1-2.
SISTERS — Stotts 0-2, Cooper Alport 0-2, Daisy Patterson 0-2, Hannah Fendall 0-2, Petterson 1-2, Taylor Foley 0-2, Ariana Tapita 0-2, Chloe Frazee 0-1, Tatum Sitz 0-1.
2B — Johnson, Imbler-Bremner, Wiles, Blodgett, Schones. HR — Imbler-Bremner 2. RBIs — Schones 2, Imbler-Bremner 6, Murray, E. Schaffner, Wiles 3, Johnson.
April 30
Y-C
002 000 0 — 2 4 1
Newport
100 102 x — 4 8 3
Briley Ingram and Dorothy Adair. Imbler-Bremner and Blodgett. W — Imbler-Bremner. L — Ingram.
YAMHILL-CARLTON — Katie Slater 2-3, Maddy Tuning 0-2, Kya Ellis 0-3, Haiulee Stephenson 0-3, Ingram 1-3, Roxy Brown 0-3, Adair 1-3, Lilly Brown 0-3, Bryason Conway 0-3.
NEWPORT — Blodgett 2-3, Schones 1-4, Imbler-Bremner 1-2, Murray 1-3, Stevie Singler 0-2, E. Schaffner 0-3, Wiles 1-3, T. Schaffner 1-2, Johnson 1-3.
2B — Ingram. RBIs — Slater, Blodgett 2, Murray.
Irish sweep Gold Beach
At Waldport, the Irish extended their winning streak to three games on Saturday, May 1, by taking both halves of a home 2A/1A-SD4 twin bill against Gold Beach, winning the first game 17-7 and the night cap 14-1.
No details of the doubleheader were provided to the media. Waldport improved to 3-1 in league and overall.
Toledo takes two
At Toledo, the Boomers picked up a pair of one-sided 2A/1A-SD4 wins Saturday, May 1, earning a doubleheader sweep of Myrtle Point/Powers. Toledo won the first game 14-3 and the second contest 15-0.
The Boomers improved to 8-1 in league and overall. Details of the games last weekend weren't submitted to the News-Times prior to deadline.