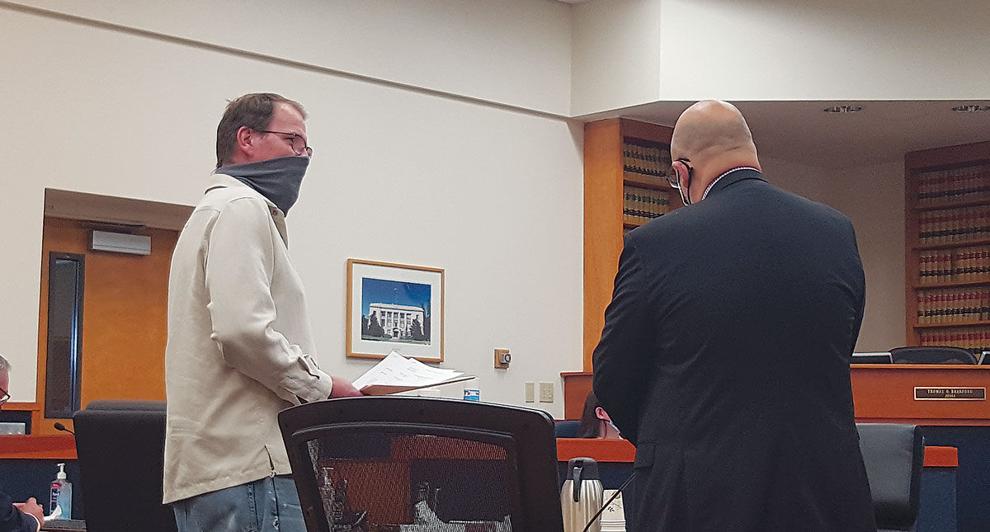 NEWPORT — The owner of a Seal Rock pizza parlor tested the patience of a Lincoln County judge during his status hearing on Monday.
Following his arraignment in Lincoln County Circuit Court last month, Kurt Lent, of Newport, owner of the currently closed Underground Pizza Network restaurant in Seal Rock, sent nine-page certified letters to four Lincoln County judges.
Lent is charged with a misdemeanor for allegedly operating his pizza parlor without obtaining the legally required license from the health department. He started running the restaurant in January, taking over and renaming a previous pizza place, and quickly gained public attention with signs that threatened to prosecute and sue public health officials attempting to enforce "unconstitutional mandates."
In a series of letters to Lincoln County Environmental Health, which is locally responsible for administrating Oregon Health Authority restaurant licenses that ensure food safety standards are met, Lent demanded the county sign a contract that would bar officials from visiting his restaurant in exchange for his license fee, claimed he was owed more than $10,000 in legal fees for acting as his own attorney in the matter, and threatened a county employee with ruinous civil and criminal action.
On March 12, Lincoln County sheriff deputies issued Lent a citation for operating a restaurant without a license. During his April 12 arraignment, Lincoln County Circuit Judge Sheryl Bachart made not operating without a license a condition of his continued release.
Four days later, notarized letters from Lent to Bachart, Judge Amanda Benjamin, Judge Marcia Buckley and retired Judge Thomas Branford were filed in the state judicial information system. Those letters, in which Lent first prescribes the methods by which judges will be allowed to communicate with him, each contain "self-executing security agreements."
The agreements purport to make the judges liable for a $500,000 fee for any use of his copyright — his name, Kurt Raymond Lent, "as well as any and all derivatives and variations in the spelling." The only way to opt out of this "consensual contract," according to the document, is "immediate cessation of any and all further unauthorized use of Secured Party's common-law-copyrighted property."
Lent includes the copyright symbol with each use of his name, except instances where it is within quotation marks. According to the U.S. Copyright Office, the name of an individual, including a pseudonym, is not copyrightable.
In court for an early resolution conference May 17, Lent refused to stand upon announcement of the judge's virtual entrance to the courtroom (Branford, who retired in February and was filling in Monday, presided by phone).
While waiting through other defendants' proceedings, Lent called out from the back row to a court clerk who was wiping down surfaces and spraying Lysol between hearings. "Hey, can you stop spraying that stuff please? It's not good for any of us," he said.
Attorney David Arganian, who was provisionally appointed to represent Lent at his arraignment, came to the counsel table just before Lent's name was called. As Lent walked to the table, he repeatedly asked the judge to identify himself. "Just be quiet," Arganian said.
"Excuse me? What did you just say to me?" Lent said. "You told me to be quiet. I don't need you to do that, you're my attorney. You do what I tell you to do."
"That's not how it works," Arganian said. As he was telling the judge Lent had not contacted him since his arraignment, Lent handed him paperwork from a manila folder. "Mr. Lent's just handed me some paperwork, which I don't see has any relevance to the case," he said. "I was appointed to represent him last month. I do not have anything to report since — "
Lent interrupted the attorney. "This person doesn't speak for me, I don't know why he's talking."
Branford said the issue was that Lent had not applied for a court-appointed attorney as he'd been instructed to do on the day of his arraignment. "Mr. Lent, do you intend to ask the court to appoint an attorney to help you?" the judge asked.
"Yeah, I already sent off all the information to this guy, who's treating me like s***," Lent said.
"No, that is not the question I asked you," Branford said. "The question was, do you want to apply for a court-appointed attorney?"
"Sure," Lent said. The judge told him he needed to do so that day. Lent asked Branford who he was again and, repeatedly, asked why he was not in the courtroom.
Branford explained, through interruptions, that he was presiding remotely to comply with the governor's and chief justice's orders about physical distancing.
"Is there a law about that sir? Is there a law about that sir?" Lent asked. Branford said, "I'm following the law, and I'm not answering your questions. There's a governor's order and a chief justice's order —"
Lent interrupted again. "So that's not a law, so that's the answer … so does the record reflect that it's not a law?"
"No," Branford said, with Lent cutting him off again to tell him he was contradicting himself.
"If you interrupt me again, you're going to go to jail today for contempt," Branford said. "You will not interrupt me." He again began explaining that he was not in the courtroom to reduce the risk of spreading COVID-19, and Lent interjected, "So you're a carrier?" The judge once more threatened to jail Lent if he interrupted again.
Branford continued the case and set a next hearing date of June 8, admonishing Lent to both apply for an attorney before leaving the courthouse and to make contact with Arganian.
On his way out the door, Lent told the News-Times' reporter, "You've got a copyright coming too, brother."
If convicted of the Class C misdemeanor, Lent faces a maximum penalty of a $1,250 fine, 30 days in jail or both.
Court records show he did apply for appointed representation.