During a May 3 joint work session of the Newport City Council and Planning Commission, city consultants presented new details on what could be the single costliest element of the city's transportation system plan.
As part of the 20-year plan currently in development for Newport's transit infrastructure required by Oregon Statewide Planning Goal 12, the city is examining an extension to Harney Street to allow two-way traffic between the road's northern and southern legs, currently divided by Big Creek Park.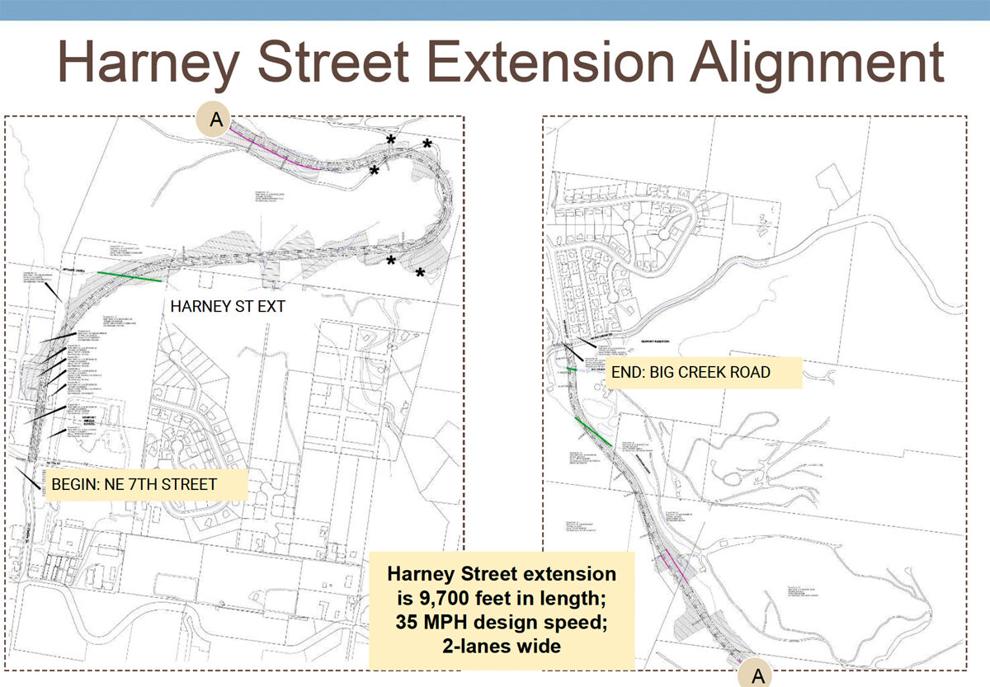 Carl Springer, of transportation consulting firm DKS Associates, told the joint session May 3 the project's civil engineer recently completed preliminary findings on the extension, providing a first, if still very rough, cost estimate for any of the transportation plan's components.
The route would skirt Big Creek Park to the east from Big Creek Road to Northeast Seventh Street, just under two miles of new roadway. It would provide an alternative two-lane route between Agate Beach neighborhoods and Highway 20, serving an estimated 5,000 vehicles per day. Springer said preliminary construction costs were $45 to $65 million, with the need for multiple bridges and culverts.
Other large-scale proposals in the plan target Highways 101 and 20 at the city's center with improvements to reduce congestion and enhance non-motorized travel. One option under consideration would create "couplets" on lengths of both highways, splitting traffic between the current alignment and a parallel street (for instance, Highway 101 and Ninth Street between Bayley and Angle streets).
Various options exist within the couplet concept, such as width of sidewalks, retention of on-street parking and overall length. The Ninth Street couplet might be shortened to stretch from Fall to Angle, thus avoiding an impact on the entrance to Samaritan Pacific Communities Hospital.
Members of the Transportation System Plan Policy Advisory Committee, city council and planning commission are also considering intersection improvements at Highways 101 and 20, perhaps adding a second southbound turn lane, which would also require construction of an additional eastbound lane on 20 to receive the traffic.
Improvements are also proposed for the intersection of Highway 20 and Southeast Moore/Harney Street, such as widening and adding a left-turn lane and signal for side streets.
As an alternative, both or either intersection could be made into a roundabout, which would reduce speeds and smooth flow but have bigger private property impacts, not to mention cost several times as much. According to Springer's presentation, it would cost less than $1 million to widen and add turn lanes at Southeast Moore, compared to up to $5 million for a roundabout. A roundabout at Highways 101 and 20 could cost as much as $10 million.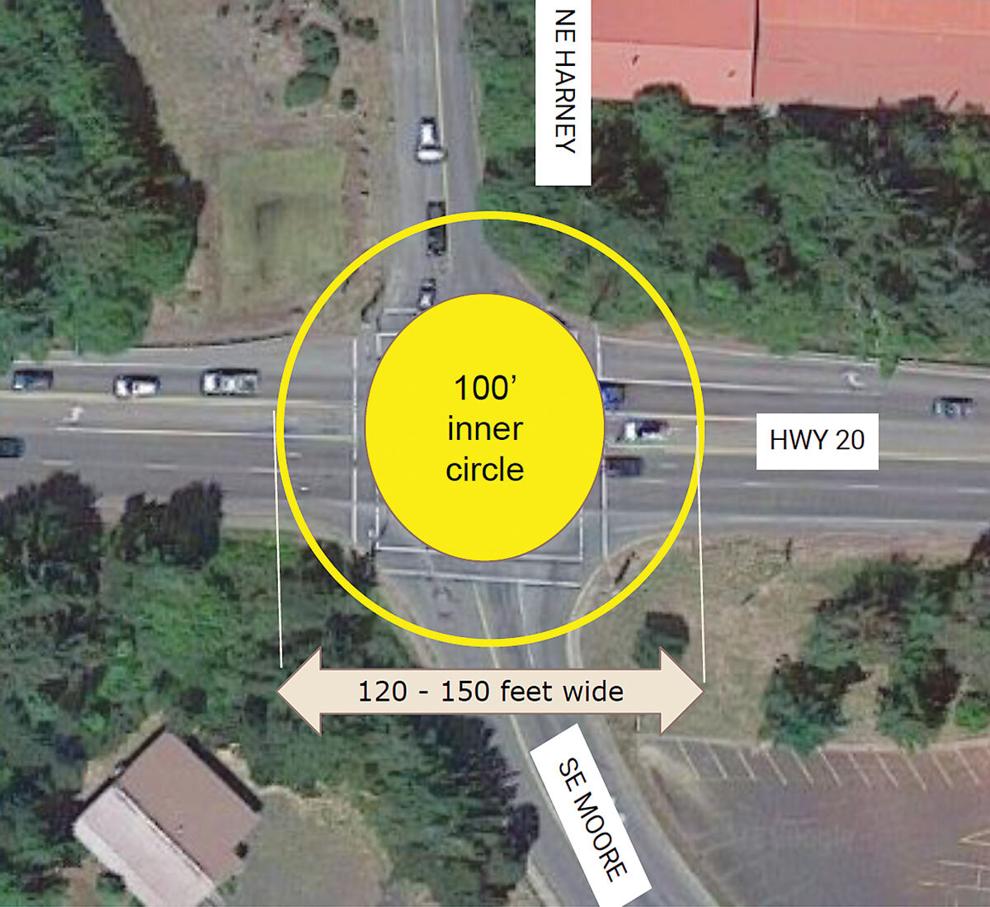 The plan takes into consideration projected 2040 traffic loads. Springer presented a bar graph showing peak summer traffic currently had the Highway 101 and 20 intersection at 92 percent capacity, and without improvements, projecting it would be at 99 percent by 2040. Average weekday traffic was at 85 percent, expected to increase to 91 percent in 20 years' time.
Work on the transportation system plan began in 2019, and as with many public projects underway during the pandemic, work was delayed and the public input process was altered. The city held an extended online open house in December, and Community Development Director Derrick Tokos said another open house will be announced in the next four to six weeks.
Tokos said that while the Harney Street extension was a high-cost prospect, it was also the first for which any estimate has been provided. Cost considerations include design and construction, as well the expense of obtaining private property as right-of-way. Tokos expects improvements such as highway couplets will also have substantial price tags.
In the latter case, where the Oregon Department of Transportation has a stake, City Manager Spencer Nebel said there are more funding options available, and some projects would qualify for urban renewal funding.
The committee, city council and planning commission will continue holding meetings on the plan through summer to select which elements of the plan are most critical and have the potential to be funded during the next 20 years. Council is expected to adopt a plan in the fall.
See this website for more background and documents related to the transportation system plan.