Editor's note: An Oregon OSHA spokesperson provided the following statement: "The Oregon OSHA rule refers to OHA facial covering guidance. Therefore, it automatically changes."
The head of Oregon Occupational Safety and Health has proposed making permanent the agency's temporary rule regarding COVID-19 measures, potentially keeping most mandatory public face mask, physical distancing and other infection control precautions in place independent of the state of emergency declared by Gov. Kate Brown.
In November 2020, Oregon OSHA's temporary rule addressing COVID-19 workplace risks took effect, requiring employers to enforce universal face coverings, prepare workplace risk assessments, train employees on infection prevention and create outbreak response plans, along with other measures. A permanent rule proposed in February by Oregon OSHA Administrator Michael Wood would keep those requirements in place after the temporary rule's May 4 expiration date and "until revised or repealed."
"The public health emergency triggered by COVID-19 remains a significant concern in Oregon," Wood said in a February release announcing the proposed rule, "As we know, we have not yet defeated this disease, and we clearly will not have done so by the time the temporary rule expires."
The governor's COVID-19 executive orders through the Oregon Health Authority are only enforceable as long as the state of emergency remains in place, and it's currently set to expire May 2. Brown could still extend it for an additional 60 days, as she's done half a dozen times since the initial March 2020 declaration. It seems likely the governor will do so, considering that Tuesday she announced county risk level rankings for April 23 through May 6, and those business and gathering restrictions are backed by the emergency declaration.
Twenty-six state governments, as well as Washington, D.C. and Puerto Rico, have mask mandates in place. Thirteen states that had a mandate at one point during the pandemic have since lifted it — 10 by order of the governor, two by legislative action, and Wisconsin's face mask mandate was struck down by its state supreme court.
There's some crossover of authority when it comes to Oregon's health mandates.
Although violation of Brown's orders is a crime, punishable by fine or jail, the governor has chiefly relied on OSHA's workplace oversight and complaint process, and that agency's own rules that parallel health authority guidelines, to enforce mandates like face coverings, physical distancing and capacity restrictions as determined by county risk level.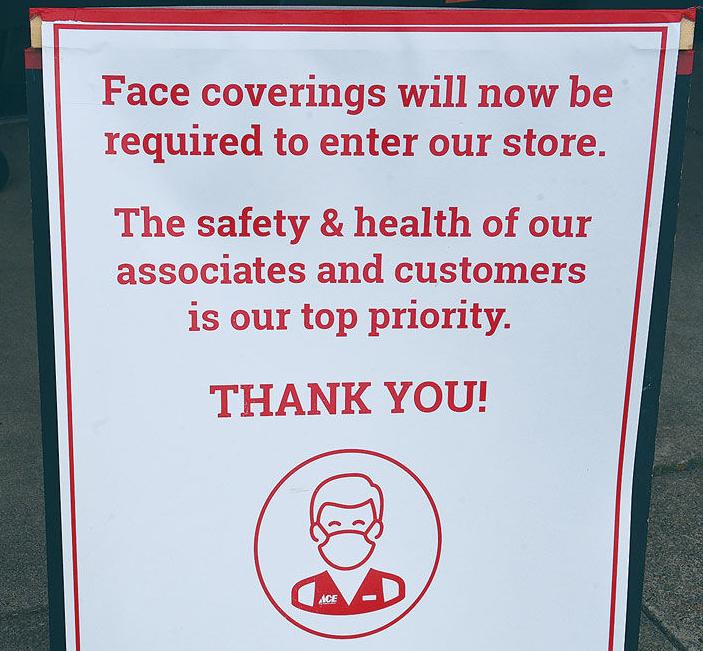 Oregon OSHA's rules are administrative, adopted by its chief officer under authority granted in the Oregon Safe Employment Act, and permanent rules remain in effect until the administrator alters or repeals them.
Wood said a permanent rule was proposed because state law does not allow temporary rules to be extended, and the agency intends to repeal it "when it is no longer necessary to address the pandemic."
The permanent rule would also add to and modify some provisions of the temporary rule. For example, employers would have to certify in writing that they are running ventilation systems in line with current requirements (this still does not require installation of new systems), must consider alternatives to transporting multiple people in a single vehicle, and must provide written notification of employee rights to return to work after quarantine.
The rule also adds a requirement that employers cooperate with vaccination efforts, which it describes as "similar to the temporary rule's provision mandating cooperation with public health officials if COVID-19 testing in the workplace is necessary."
Specifically, employers must make employees and appropriate space available at no cost to workers if local health officials or OHA says vaccination within the workplace is necessary. The employer is not obligated to pay for vaccinations unless the employer mandates employees receive shots.
"Unless the local public health agency or Oregon Health Authority directs otherwise, employers need not require employees to accept the vaccination," the proposed rule reads. If workers are offered a vaccine and decline, the employer must document the declination.
The proposed rule notes: "Allowing some workers to decline such a vaccination does not indicate any doubts on the part of the state of Oregon about the value of the vaccine and the importance of reaching a high vaccination rate to both public and worker health."
OSHA accepted public comments and held virtual hearings on the rule during February and March. The agency received a record 5,000 comments, five times the previous highest number of written submissions regarding a proposed rule. These were overwhelmingly against adoption. A change.org petition opposing the permanent rule garnered more than 60,000 online signatures.
Wood, the agency administrator, is expected to decide on adoption by the end of April. The full text of the proposed rule is available at tinyurl.com/3tnz6xur.
Oregon would not be the first state with permanent COVID-19 rules for the workplace. In January, the Virginia Department of Labor and Industry's Safety and Health Codes Board adopted a permanent standard for personal protective equipment, record keeping, training, and infection response, which is to be reviewed 14 days after that state's emergency declaration expires to determine if it is still needed.
Since January, Oregon OSHA has fined at least 10 businesses around the state a total of more than $200,000 for violation of its COVID-19 guidelines.
Up