NEWPORT — Food truck operations in three commercial neighborhoods will need to have full water and sewer connections, and the school district convinced Newport City Council not to allow vending near campus.
A month from now, residents of Newport will have an opportunity for dining largely denied them under previous city code — food trucks, referred to in code as mobile vending units.
Existing regulations require such operations on private property to be more than a half mile from any brick-and-mortar restaurant, eliminating most commercial land in the city, and mobile vendors operating in the right of way can only park in one spot for 15 minutes (language designed to suit things like ice cream trucks).
Following two public hearings in July and August, the Newport Planning Commission recommended an ordinance to city council that would amend municipal code, with no required distance from restaurants for food trucks on private property and allowing up to two hours for vendors parked on the side of the road in commercial, tourist and water-related zones (besides Nye Beach and the Bayfront) and 15 minutes in residential areas.
At the urging of restaurant owners in those neighborhoods, the planning commission included an additional recommendation regarding Nye Beach and the Bayfront. Food trucks on private property there would only be allowed as part of a "pod," a cluster of four or more that must meet the same permitting standards as restaurants, providing water and sewer hookups, as well as sheltered seating.
The Lincoln County School District also made a mark on the proposed ordinance with testimony at the public hearings, urging the commission to ban food trucks from setting up within 500 feet of a school during class hours, on private property or in the right of way. Failing to do so, district officials testified, could worsen already problematic free lunch participation rates and truancy at Newport High School.
Previous city code prohibits food truck operation in the right of way within 500 feet of a school but contains no such language regarding private property.
During a four-and-a-half-hour regular meeting Tuesday, Sept. 7, city council held a two-hour hearing regarding the proposed ordinance. Several school administrators testified to reiterate and expand on their concerns, with food service employees in pink Sodexo T-shirts offering silent support from the gallery.
Kim Cusick, business and food services director for the district, read from her letter to council, which thanked the planning commission for including the 500-foot buffer. "This decision supports our position that food trucks can offer exciting business opportunities for residents and visitors," Cusick said. "However, that should not come at the expense of our most precious resource, our children and grandchildren."
Cusick said allowing food trucks, especially pods, to operate close to the school during school hours "provides a potentially dangerous exposure to a population of adults who may have mental health, drug and/or other issues."
A pod, with its required bathroom, would likely draw some of the homeless population that currently congregates near the Starbucks and on Highway 20, Cusick said. "We can see this happening wherever there are public restrooms in the city."
In previous testimony, district officials said the high school's proximity to restaurants such as Starbucks and Arctic Circle created a draw that contributed to the school's truancy problem.
School Superintendent Karen Gray said the district was considering closing the NHS campus for ninth and 10th graders next year. She noted that a property owner on Third Street across from the school cafeteria wanted to locate food trucks there.
"It would be extremely difficult to monitor students under our care when a food truck is right across the street from the high school, and we are closing campus for half the students," Gray said. "Our attendance rates at Newport High School are low. We are working hard on attendance. Kids skip school after lunch, and that is why we want to close campus. Food trucks right across the street would give kids one more reason not to come back."
Gray added that a vending operation would further complicate traffic near the school.
Council also heard testimony from NHS Principal Reyna Mattson and Jamie Nicholson, the district's child nutrition program manager.
"Have you ever seen a child return from winter or spring break with noticeable weight loss? I have," Nicholson said. She said some students might eat at the food trucks, but given the high poverty rate, "kids will likely go hang out and not eat at all, passing up a free, healthy meal only a few short feet away."
Mattson echoed the preceding testimony and added that she was concerned about the possibility of alcohol being served.
Benedict Linsenmeyer, an attorney for the school district who has provided lengthy testimony at prior hearings and submitted hundreds of pages to support the district's position, said he was there to correct misunderstandings about that position.
He said the school district was "totally fine" with food trucks in the Newport area 365 days a year, provided it was not during school hours. "We are totally in support of food carts," he said. "What we're not in support of is having them have the ability to target our children over the lunch hours during school."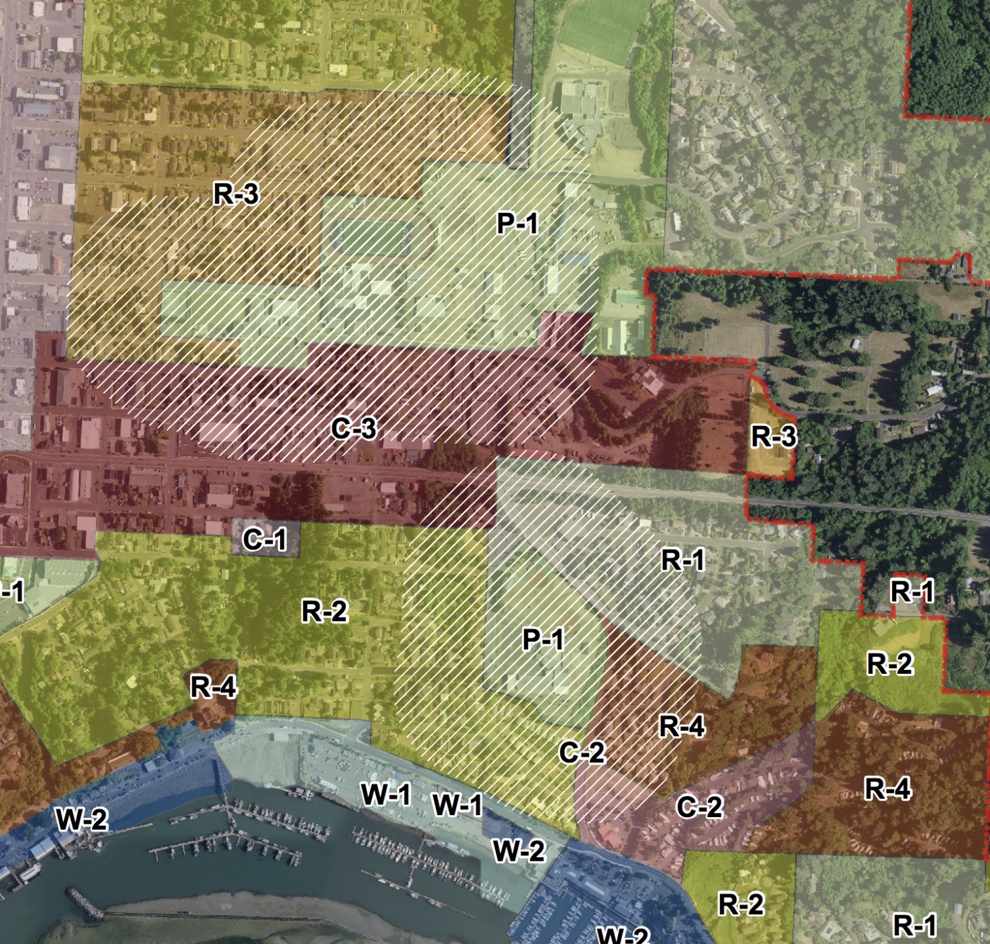 Susie Montague wants to open a fixed fish-and-chips stand downtown in the Deco District sourced from the F/V Jo El, which she owns and operates from Port Dock 5 with her husband Brett. Both were in the gallery for the hearing, and Susie offered testimony as she has in every previous hearing on the matter.
Montague also appeared before council during its meeting March 15 to urge changes to the code and presented a plan for her 12-by-8 fish-and-chips stand already approved by Lincoln County Environmental Health.
She told councilors Tuesday she did not want to operate near a school and addressed issues raised by local restaurant operators during the planning commission's first hearing.
"Though somewhat hard to discern, I think they were proper trash disposal, a fear that food trucks would not contribute financially to the city and unfair competition with restaurants," she said. "For the waste disposal issue, I don't think there is anyone who does not want to see trash properly disposed of. With strict regulations from the county, and now from the city, and with this as a common goal between us, I believe we will be adequately prepared should an issue arise."
Montague said food trucks will still have to pay for business licenses, utilities, supplies and taxes and provide a "safe and clean food production environment." And to operate a fixed stand, as she intended, she would have to pay a lease like most restaurants. "Food trucks and restaurants are successfully co-existing in every tourist destination in Oregon," she said.
Unfortunately for the Montagues, the version of the ordinance eventually approved by city council puts their current plan out of reach.
Zach Poole, co-owner of Pig and Pancake, said he was concerned about food trucks parking on public streets directly adjacent to his restaurant — which would be in violation of the ordinance as proposed and adopted. He said food truck customers have been so bold as to use the outdoor seating at other Pig and Pancake locations.
"City Center Newport should be treated the same as Bayfront and Nye Beach," Poole said. "We spent $150,000 in system development fees to put that restaurant in, payable to the city of Newport. I've got some blood sweat and tears into this ... We've looked out after each other over the years."
In later discussion, Councilor Dietmar Goebel asked Community Development Director Derrik Tokos if a provision for City Center should be added, restricting food trucks there to operation within pods. Tokos said it could be done but did not come up at the planning commission, where concerns were raised about the Bayfront and Nye Beach because of the level of congestion there, which is not as much of problem downtown. Goebel said he thought City Center business owners deserved the same protections.
Councilor Ryan Parker agreed. "I'd rather it be the same citywide in those overlay zones," he said.
Tokos said a downside that councilors might want to consider is that there are more commercial property opportunities downtown.
Before taking a recess, council directed Tokos to draft additional code language with uniform regulations for all three neighborhoods, which it adopted at the end of the meeting. It also passed a resolution establishing four floating spots each for vendors on public property at Nye Beach turnaround, near the pump station on the Bayfront and in City Center.
The Montagues told the News-Times they were unsure if they would still open in light of the restriction, and they left the meeting before council returned from its break.
Councilors also approved the 500-foot buffer zone around schools for food trucks both in the right of way and on private property, beginning 30 minutes prior to the first bell until 30 minutes after class is out. Parker voted to approve the ordinance but stated for the record that he opposed the buffer.
Parker indicated during his questions for school officials that he was skeptical 500 feet would be effective given the proximity of already available options.
Councilor Aaron Collett told school district administrators and their attorney, "The rather verbose, borderline aggressive early out from the school district was almost more harmful than helpful, in my opinion, when I was trying to learn about this.
"I don't want to touch the free lunch and negatively impact that at all, but I know we've asked for data on that, as well as the planning commission. I haven't made it through all 614 pages yet, but I didn't see it in there." He said he was not entirely in agreement with the buffer zone but would vote for the measure to avoid jeopardizing the free lunch program.
Councilor Beatriz Botello said she sympathized with the school district's concerns, but she defended the potential healthiness of the fare offered at food trucks.
Councilor CM Hall said she thought there were serious equity issues with student access to food trucks, having had childhood experience in a social group with spending money while she herself had none.
Council's affirmative vote was unanimous. The ordinance takes effect 30 days from its Sept. 7 adoption.