Newport adopts fire closure ordinance
By Kenneth Lipp
Of the News-Times
The Lincoln County Board of Commissioners on Monday declared the county's first ever "drought watch."
County Counsel Wayne Belmont told commissioners during their regular virtual meeting the recommendation grew out of an informal drought working group organized by Commissioner Kaety Jacobson.
He said the most recent meeting of the group was well attended by representatives of area water utilities. Belmont noted there are 53 different purveyors of water in the county, ranging from large city-run systems to private districts with a few dozen customers.
"In the meeting today we had a lengthy discussion on the timing of the drought declaration, and I say that because it's pretty inevitable," Belmont said. Given increasingly dry conditions earlier than usual and indications that the trend will worsen, he said he anticipated asking commissioners to make a formal declaration of a drought during their next regular meeting, June 28.
According to the U.S. Drought Monitor, south Lincoln County is already in a state of severe drought, along with 77 percent of the state. At this point, pastures are brown, marshes are drying up, bears are moving into urban areas and fire risk increases.
The northern half of the county is in a moderate drought, when declining water levels impact recreation and other uses.
The county counsel said there was no specific moisture or river/stream level at which the county would declare a drought. "But a drought declaration can be a linchpin for having the necessary conversations and institution of conservation and curtailment activities," he said, and water providers were therefore particularly interested in the timing.
Belmont said the city of Waldport informed the drought group it had already tapped its secondary water supply and will be moving forward in a "stage one alert," with voluntary conservation measures.
The county counsel said the group recommended the county declare "drought watch" status that would put the public on notice that conservation measures were imminent before there was an actual water emergency. He said declaring a watch by a voice vote would not be a formal legal measure, just a signal that the county is "moving inexorably toward a drought declaration."
He a said the Midcoast Water Conservation Consortium, which is made up of representatives from the county's largest municipal utilities, would meet today (June 23) and produce educational materials for the public about what to expect regarding upcoming usage restrictions, and some of that language could be incorporated into the county's declaration.
Commissioners voted unanimously to declare a drought watch.
In related business, the board heard from Sheriff Curtis Landers regarding enforcement of fireworks regulations.
The city of Waldport recently passed a ban on the sale or use of recreational fireworks in its corporate limits for the remainder of the year, citing fire danger and the water shortage, and Mayor Greg Holland said he would ask commissioners to institute a ban in adjacent unincorporated areas. Commissioners said they'd received requests for a ban from residents, particularly the unincorporated Bayshore community.
Landers told the commissioners that deputies were already hard pressed to keep up with other calls during the July 4 holiday. "We already do not allow time off, we have people on overtime just to keep up with general duties," Landers said.
As the sheriff's office patrols Waldport via a contract with the city, Landers said it was still figuring out how to enforce the municipal ban. He said reader boards would be put up on Highway 101 on the north and south city limits.
Commissioner Claire Hall asked if a ban on legal recreational fireworks would address the fire danger, as she's heard anecdotally that explosives already illegal under Oregon law imported from other states presented a bigger problem. Landers said the nuisance aspect of those type of fireworks prompted the most complaints, but as people knew they were outlawed, he wasn't sure if recreational fireworks might similarly be reported if prohibited.
At Commissioner Kaety Jacobson's prompting, Belmont clarified what fireworks were already illegal in Oregon — those that fly, explode, travel more than 1 foot in the air or more than 6 feet along the ground.
Chair Doug Hunt asked Landers what level of staff would be necessary to effectively enforce existing laws. The sheriff estimated eight additional personnel on first shift would do the trick.
Hall and Hunt both said they were convinced additional regulations would not be effective, especially considering enforcement limitations. Jacobson said she was still on the fence. "While I understand that enforceability is a problem, we have other laws, like wearing your seatbelt, that are difficult to enforce," she said.
Commissioners agreed to instruct staff to contact local fire districts to determine what enforcement powers they can bring to bear, as well as to examine the potential impact of a county ban. The board will discuss the issue during its June 28 meeting.
Newport adopts fire restriction closure ordinance
During its regular meeting Monday, the Newport City Council adopted an ordinance allowing it to close access to certain city-owned properties under threat of wildfire.
Under the ordinance, when the Oregon Department of Forestry proclaims an extreme fire danger, the department's highest risk classification, the city can post notice restriction use of the following sites until conditions improve: the Agate Beach transfer station, Schooner Creek drainage, Big Creek Park and drainage, Little Creek drainage, Big Creek reservoir properties and Forest Park.
According to City Manager Spencer Nebel's report to council, during the fires last September, neighboring property owners expressed concerns to the city about public use of the site during the extreme fire risk.
Nebel noted that a plan would need to be developed for where dislocated individuals, including homeless persons, could relocate. Such circumstances were relatively rare, Nebel said, and short-lived when they occur.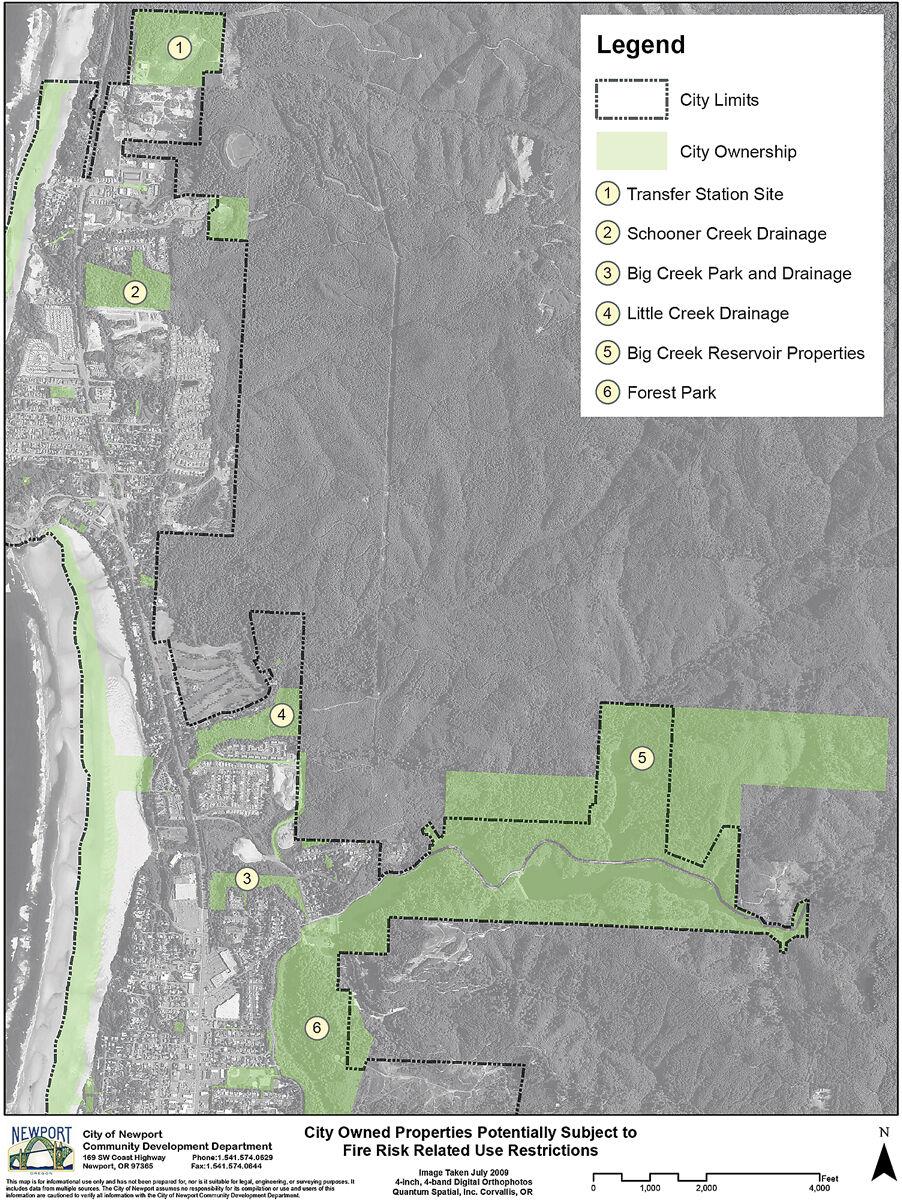 Fire Chief Rob Murphy said the ordinance would be an important tool for fire prevention.
Councilor Ryan Parker said the city also needed to address its urban canopy — Newport's forested areas are particularly susceptible to fire due to damage by invasive vines and drought, he said — and the fire chief agreed with the councilor's assertion.