An updated draft ordinance for the regulation of short-term rentals in unincorporated Lincoln County included a percentage cap on the number of vacation rental dwellings allowed to operate within each of seven geographic regions. The comprehensive rewrite of county vacation rental code now underway for two years might all be for naught, should a measure on the November ballot be approved by county voters and survive potential legal challenges.
Former County Counsel Wayne Belmont, now an assistant counsel as he works to close out ongoing projects, presented to the Lincoln County Board of Commissioners Wednesday for the first time since his July retirement.
License caps
At their last meeting in May, during which they extended a moratorium on new short-term rental business licenses to Nov. 30, commissioners instructed staff to come up with density limits for short-term rentals specific to seven county regions based on percentage of total physical addresses within those regions, rather than a cap on the total number of licenses in the county.
Belmont said staff based recommended percentages on existing density, as well as factors such as local infrastructure. The five regions west of Highway 101 would see a reduction in maximum permitted licenses of varying percentages, while two regions to the east, by far the largest and least dense with rentals, would have room to increase licenses.
As preliminarily proposed, region one, west of Highway 101 from the northern county line to the Depoe Bay Bridge, would be allowed a density of 6.5 percent. There are currently 157 rental licenses in the region out of 2,210 physical addresses, a density of 7.1 percent. Belmont said this region had the most properties connected to a sewer system, enhancing capacity for dwellings.
On the other end of the county, region five, from Waldport to the Lane County line, could have 13 percent of total physical addressed in use as licensed rentals, down from its current 23.3 percent (87 out of 374).
Between all five regions west of Highway 101, the cap on licenses would be 95 below the current number of licensed rentals, 455 compared to 360. However, no licenses would be revoked upon passage of the ordinance. Reduction would take place gradually, as property owners relinquish licenses upon sale or change of use.
East of the coast highway, the cap in region six, north of Highway 20, would be 70. South of Highway 20 in region seven, 67 licenses would be permitted.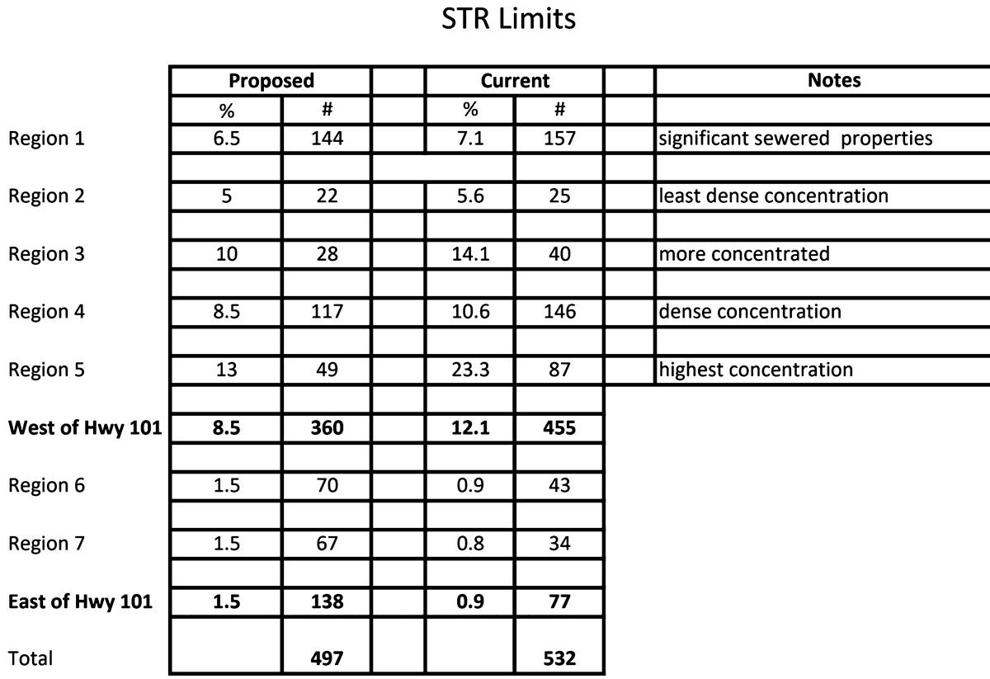 Commissioner Kaety Jacobson noted that this approach could actually result in the total number of licenses in the county going up. Voluntary attrition of licenses west of Highway 101 would likely take years, while applications in the two regions east could begin as soon as license processing resumes (there would be a waitlist and lottery established for when coastal licenses finally open up).
There are currently 532 licensed rentals in all unincorporated areas. With the new area caps, 498 total would be permitted after western regions voluntarily reduce, but with new licenses in the east, total rentals could reach 583 before numbers drop.
Septic systems
Belmont turned the virtual dais over to Brian Crawford, Lincoln County Planning and Development's senior environmental health specialist, to discuss septic system requirements included in the draft regulations.
The proposed ordinance would require licensees, current and future, to obtain an evaluation and report of their septic systems by an Oregon Department of Environmental Quality authorized professional. This would allow any problems to be identified before as any property could be rented, as well as establish a maximum occupancy for a dwelling based on the capacity of its wastewater disposal system.
Crawford said he'd consulted with DEQ-authorized professionals in the area, and based on their input on how long it would take to perform inspections, he recommended the board extend the proposed deadline for system reports to Dec. 21, 2023.
He reported the professionals also said regular follow-up inspections should be conducted as often as annually, depending on the type of system installed.
Dwelling capacity
The proposed ordinance would also reduce the number of people allowed in a vacation rental. The current limit is three people per bedroom plus three, with a total maximum of 16. There are also eight grandfathered properties to which this 2016 code does not apply.
Under the proposed ordinance, occupancy would be reduced to two per bedroom plus two. The proposed code language also prohibits holding events, such as weddings, at vacation rental homes.
Jacobson said she would like to see more specific language clarifying that the capacity limit applied all day, not just to overnight guests, and Belmont said that would be easy to add.
Board Chair Doug Hunt agreed with Jacobson, and added that he would like to see what the capacity of the grandfathered properties would be under the new per-bedroom capacity limits and to consider establishing a maximum that applies across the board.
Belmont said they would review the grandfathered properties. He added that a home's septic system report capacity would limit occupancy, regardless of grandfathered status, if it was less than licensed capacity.
Commissioner Claire Hall also said she would like to see more specificity in the language, and Sheriff Curtis Landers said this would make compliance enforcement much easier.
Dealing with complaints
The proposed ordinance also creates a new, informal hearing process to decide the outcome of complaints, which some residents have said often go without resolution, while rental managers have said the process lacks a means of sufficiently differentiating between reports and substantiated violations.
Retained from the current process would be a first step of complainant contact of the mandated, 24-hour contact person. If fruitless, the complaining party could then file a complaint via an online system, which is then investigated by a Lincoln County Sheriff's Office code enforcement officer.
Currently, the code enforcement officer essentially has to witness a violation themselves, then cite the property owner for adjudication through the circuit court.
Under the new draft code, if the investigation shows "information, evidence and belief" for the complaint, the property owner could instead be issued a citation to appear before an administrative hearings officer within 30 days. The county counsel's office would devise procedures for the hearing, and the written decision on whether a violation occurred and what action should be taken could be appealed to the circuit court.
The ballot measure
The board expects to hold a first public reading of the new ordinance during its meeting Oct. 13, and it might approve it by the end of November. But a question on the Nov. 2 ballot could render all the effort futile.
If approved by voters, Measure 21-203 would upon taking effect restrict occupancy of short-term rentals to two per bedroom in low-density residential zones of unincorporated Lincoln County, and, after five years, phase out such operations altogether. The majority of the current 532 licenses rentals in unincorporated areas are in single-family residential zones.
Jacobson asked Belmont to explain why the work to pass regulations was still important in spite of the looming ballot measure.
The former county counsel noted that as a county employee, he was not allowed to speak for or against the measure. He said he would refer to comments he made prior to the measure's approval for the ballot — that the county's ordinance approached short-term rentals as business license regulation, the best way to regulate them in unincorporated areas, whereas the ballot measure took a land-use approach.
"And I have already articulated very clearly that I think there are number of legal issues and questions with dealing with this particular issue through the land use system," Belmont said.
Commissioner Hunt noted that as an elected official he was allowed to offer his opinion on the issue.
"Frankly, I am very concerned about the ballot measure," Hunt said. "If that ballot measure passes, it could have crippling financial impacts to the county." Among those could be liability under state Measure 49, which can make local and state governments responsible for compensating property owners whose properties lose fair market value due to regulations that restrict residential use or farm or forest practices. Jacobson said she shared this concern.
The phasing out of all short-term rentals would also substantially impact the county's transient room tax takings. During the past three years, the county has collected an average of $3.3 million annually from its per-night tax on rentals, which is paid for stays at vacation homes, hotels and campgrounds.
Hall said she also thought it was "high likely" that, if enacted, the county would face litigation over the ordinance. "People will make the choice they make, but I really hope they will take a good look at the more surgical approach I think we're moving towards here, rather than a more radical, forced phase out," Hall said.