My day started with the sunrise over Yaquina Bay, which was the most beautiful sunrise I had ever seen. The glowing sun reflecting off all the boats that were headed out to sea with the landmark Yaquina Bay Bridge in the background was already one of the most incredible ways I have started a morning in my entire life, so whether we caught any fish or not, from that moment on it was all just a bonus. But guess what, we did catch fish!
Last Wednesday, my husband and I were invited out ocean fishing by Tony and Eugene, the inventors of the Crack'n Crab Cleaner. Those guys set us up with four custom-made fishing rods — by Tony himself — on their boat Crack'n. One after one, those rods had bites on them. There is no bigger thrill than watching that rod bounce because you know there's a salmon almost 100 feet down at the end of that line. The adrenaline you feel when reeling these fish in makes you feel as if you have superhuman strength, almost blindly acting on pure instinct to try to get these ocean fish into the boat. Although a lot of the coho we caught were native so we were unable to keep them, and a few chinook got off the hook right at the boat, the thrill of it all is pretty indescribable — keepers or not.
However, when I landed my first keeper coho, which also happened to be my very first salmon catch of my life, there really wasn't a feeling like it — until I landed my first chinook! That salmon put up a fight, and I wasn't about to let it win. Maybe I had something to prove because I was the only woman on the boat and I didn't want to let the boys down, or maybe it's just in my blood and I was meant for this kind of thing. Either way, I fought that chinook until Tony had that thing secured in the net. At that point, I had to take a seat to try to catch my breath. This was a thrill of a lifetime, and I can see why these fishermen spend all of their free time out at sea.
My day wouldn't have been a fraction as incredible as it was if it weren't for Tony and Eugene, the men behind the Crack'n Crab Cleaner. These men are kind, genuine, down right hilarious and absolutely a breath of fresh air. During these uncertain times in our world currently, I often feel as if there aren't many people out there that share my same values and passion for life, and these men are my people. These are incredibly kind men, with the strongest work ethic and genuine core values that you just don't see much anymore. Oh and so darn hilarious — I was hysterically laughing all day long because of these two. You truthfully might not ever meet an all around better couple of humans.
You can find their Crack'n Crab Cleaner here locally on the coast at all Englund Marine locations, Newport Marina Store (by the boat ramp), Newport Ace Hardware, Shrimp Daddy in Waldport, Breen Marine in Florence, Salmon Harbor Tackle in Winchester Bay, Basin Tackle in Charleston and Bandon BAIT. The Crack'n Crab Cleaner is currently sold in more than 80 locations, or you can order it directly online at www.tealcrab.com.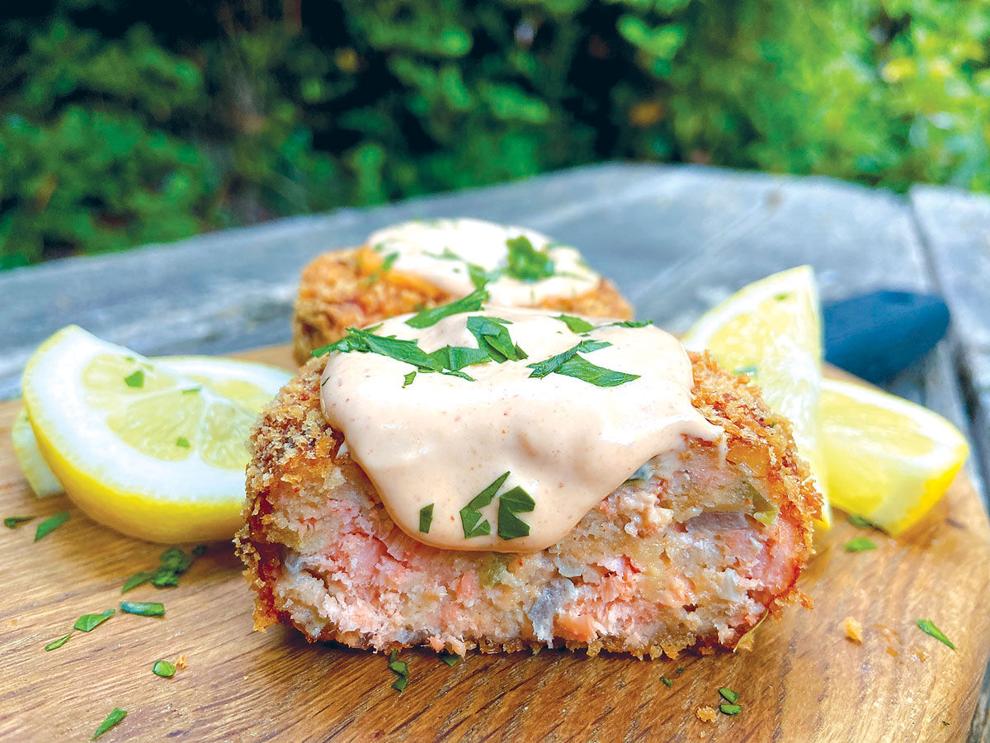 Salmon Patties
3 cups salmon
1 Tbs. butter
1 cup red onion
1 jalapeño
1/2 green bell pepper
4-5 garlic cloves
2 eggs
6 Tbs. mayonnaise
2 Tbs. Worcestershire sauce
1 tsp salt
1 tsp cayenne pepper
2 cups panko crumbs, plus a little extra for dredging clam cakes before they hit the fryer.
Oil for frying
Directions:
In a skillet, add butter and sauté onions and peppers until soft, add garlic and sauté for another minute of so. Remove from heat.
In a separate bowl, mix egg, mayonnaise, Worcestershire sauce, cayenne, salt and pepper.
Add sautéed onion and peppers mixture to egg mixture, then add 1 cup panko crumbs and chopped salmon.
Form into 1/3 cup sized cakes, shaping them into approximately 1/2" thick rounds.
Refrigerate for at least two hours before frying.
Right before deep frying press a little extra panko crumbs on each side for extra crunch.
In a deep fryer or skillet, heat oil to 350 degrees and deep fry until golden brown.
Top with Spicy Sriracha Mayo and garnish with fresh parsley, enjoy!
Spicy Sriracha Mayo
Ingredients:
1/2 cup sour cream
1/3 cup Mayo
1/2 tsp garlic
1/2 tsp cumin
1/4 tsp salt
3-4 tsp. Sriracha
Mix well.