One of the oldest breads from France is boule. In French, boule means ball, and this is the shape the original bread makers would make their dough into. Round like a ball. Initially, bakers were more accustomed to making boules than baguettes.
Sourdough baking, should you choose to heed the call, provides an opportunity to reflect, look within and improve your emotional wellbeing. For me there is something so therapeutic in the process of making sourdough bread. It's an art! I have had a lot of fun as I've learned new techniques and flavor profiles. I've even come up with some signature designs for the top of my boules.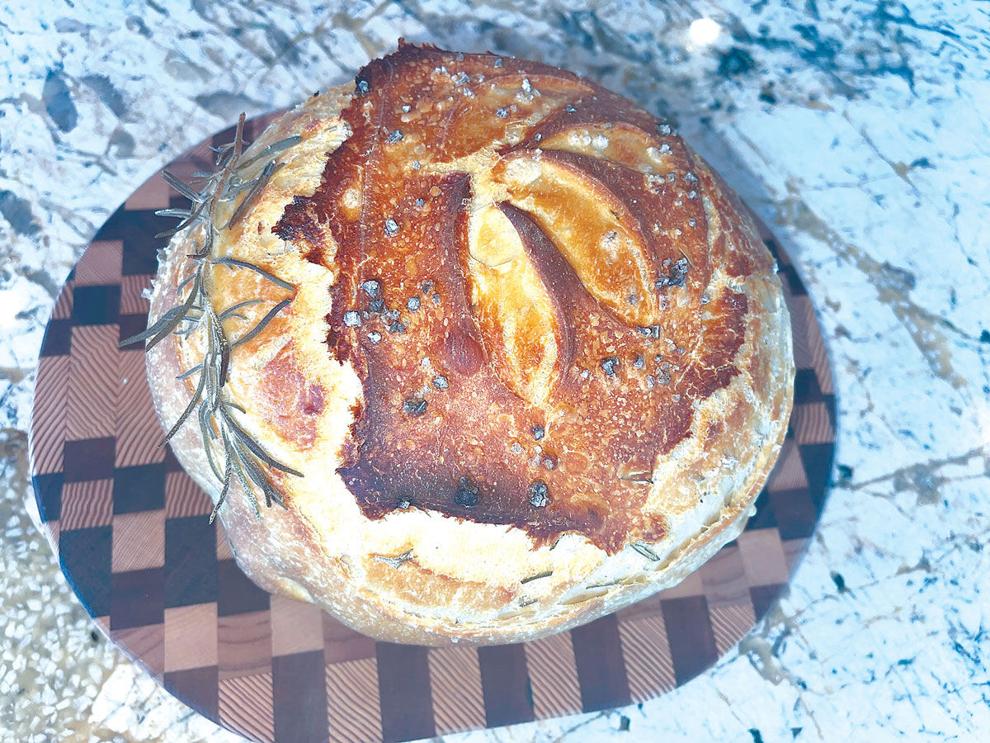 I use a bread lame, a razor blade tool to score the top of my loaves with precision, easily found in a specialty kitchen store. I enjoy shopping for these kinds of tools from our local shop, Tú Tú Tú, in Nye Beach.
Have fun trying your hand at sourdough bread making. I'm always happy to share my sourdough starter — it's a gift from the heart of my kitchen.
Rosemary Sourdough Boule
Directions:
• 1/3 cup sourdough starter. I was fortunate to get my starter from a friend, Stephanie Brown. She made me the best loaf of rosemary sourdough, I'm still dreaming about it! I'm anxious to try my new starter, from San Francisco, that's over 159 years old.
• 1-1/2 c water
• 4-1/4-1/2 cups flour. I use 4-ish cups of Kamut flour. I have been so inspired by one of my favorite food enthusiasts, The Food Nannies. They use Kamut flour for everything! It's an ancient grain that has never been genetically modified.
• 1-1/2 teaspoon French gray salt
• 1-1/2 teaspoon fresh finely chopped rosemary, one of my favorite herbs that I grow.
• 1/4 cup olive oil. I use Trader Joe's.
My Danish dough hook is the easiest tool to mix the dough with. I cover the dough with a tea towel and let it rise on the counter 8-12 hours. Shape it and refrigerate in a lightly floured bowl and cover again with tea towel for 4-plus hours. Invert the dough onto parchment paper and bake 425f, 25-30 minutes in a covered Dutch oven. Take the lid off and finish baking at 375f. I love using my 4-quart French Staub pan, it makes a perfect boule.cool to room temperature before storing in the refrigerator (roughly 1-month shelf life refrigerated).