These apple pie cookies are stuffed with delicious homemade apple pie filling and caramel, then surrounded by flakey pie crust. These mini pies are absolutely addictive!
These mini apple pies are a fall favorite. I love the way this lattice looks, and I can't explain how delicious they are — a huge part of that is the homemade caramel. Each bite has the perfect combination of apple, caramel and flakey crunch.
The recipe makes a lot of filling. You can repurpose the leftovers into extra for topping pancakes, ice cream or snacking.
It's easiest to assemble the cookies on the prepared baking sheet as they can be difficult to transfer. If you're short on time, you can use frozen pastry dough, pre-made caramel and/or even store bought pie filling. That said, all the components are easy to make, and you will definitely taste the difference if you take the time to make these from scratch.
Measure your flour correctly. Adding too much flour to the recipe is the most common mistake. The best and easiest way to measure flour is by using a scale. If you don't have one, then fluff your flour with a spoon, sprinkle it into your measuring cup, and use a knife to level it off.
Caramel Apple Pie Cookies
Ingredients
Filling:
2 tablespoons freshly squeezed lemon juice
3 pounds apples Honey crisp, 1/2 Granny Smith
2/3 cup sugar plus more for sprinkling on the pie
1/4 cup salted butter
1/2 teaspoon ground cinnamon
Dough:

2 1/2 cups flour plus more for rolling
4 tablespoons granulated sugar
1/2 teaspoon sea salt
16 tablespoons unsalted butter chilled
4 tablespoons ice water
2-3 teaspoons cinnamon
egg wash:
1 egg

1 tablespoon cream
Caramel:

1 cup brown sugar

5 tablespoons butter, salted

1/2 cup cream

1 tablespoon vanilla extract

1 pinch salt, generous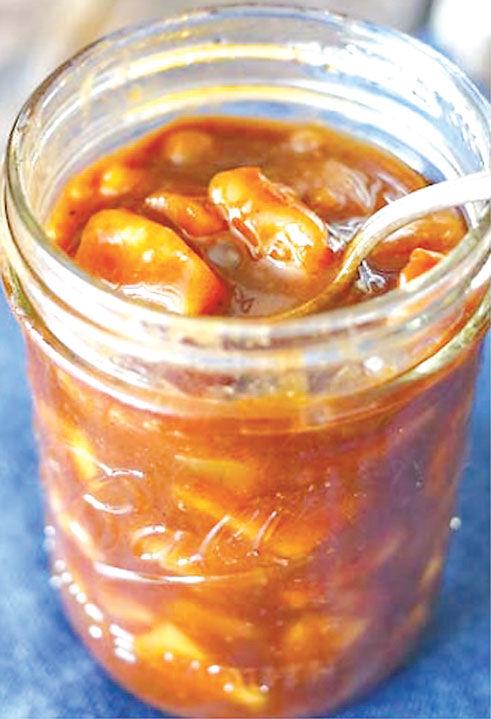 Instructions
To make the dough, add the flour, sugar, salt and spices in a food processor. Give it a few pulses before adding the butter.
Cut the cold butter up into tablespoon-sized pieces and add it to the flour mixture. Pulse a few times until the butter is in pea-sized clumps. Drizzle the mixture into the processor while pulsing. If you can squeeze the dough into a clump that stays together, it's done. If not, add a tablespoon of ice water.
Transfer the dough onto a pastry mat or another floured surface and knead 2 to 3 times just to help it come together a bit. Gently flatten the dough into a one-inch thick disk and cover it in plastic wrap or a Ziploc bag, then place it in the fridge to chill for about 30 minutes to an hour.
To make the caramel, combine the sugar, salt and cream in a small pot and heat over medium-low heat while whisking. Cook for 7-8 minutes until the caramel begins to thicken. Once caramel has thickened and is bubbling, remove it from the heat and pour into a bowl, then set it aside to cool off. Because this is getting baked into the cookies, you don't have to worry about crystallization.
Instructions for the filling: Once your apples are roughly chopped, put them in a bowl and add the sugar, spices and lemon juice. Toss them around to make sure they are evenly coated.
In a large skillet, melt the butter over medium-high heat. Add the apples and cook, stirring until the sugar dissolves and it begins to simmer. Cover it up, reduce the heat to medium-low and cook until the apples soften.
Strain the apples in a colander over a medium bowl to catch all the juice. Give the colander a good shake to get as much liquid as possible.
Return the juices to the skillet and simmer over medium-high heat until thickened and lightly caramelized — about 10 minutes. Toss the apples with the reduced juices and spices. Make sure everything is evenly coated. Go ahead and set them aside to cool completely. Once the apples are fully cooled, dump them out on cutting board and chop them up into small pieces, then return them to the bowl.
Now to prepare the pie crust. Roll your pastry dough out to about a quarter-inch thick. One half of the dough is for the bases and the other half is for the lattice tops. You will probably want to chill the dough for the lattice tops until just before cutting the strips and arranging on top. First, cut your circles.
I use a ruler to help me cut straight lines for the lattice tops. You will probably need 6-7 small strips to drape over the top of each pie. Once you have all of your pastry dough cut out, it's time to grab that apple filling. Place each base on a baking sheet and brush the caramel on top. Make sure you leave a border at the edge. Add about 1 tablespoon of the apple pie filling to the center of each circle and brush the edge with egg wash.
For the egg wash, mix an egg and dash of cream in a small bowl. Brush the edge of the cookie with the egg wash then arrange the first rows of the lattice on top and brush with the egg wash. Place the perpendicular strips on top. Using the same size cookie cutter, cut and remove the excess pastry dough. Brush a final egg wash on and sprinkle with sugar (and cinnamon if desired) and bake at 350 degrees for about 20-25 minutes until golden brown.
Combine confectioners' sugar and 1 teaspoon cinnamon in a mixing bowl; add 1 teaspoon vanilla extract. Stir in milk slowly until desired consistency is reached; drizzle over cooled pies.
You can also bottle the leftover apple filling and use for later, or eat with a spoon.