WALDPORT — It wasn't so long ago that Emily O'Neill felt a little nervous about the reception she and her husband, Paul, would receive from Waldport residents shortly before they opened the Radical Radish mobile farmstand and food cart.
"It's pretty cool because when we arrived, we really didn't know if the Waldport community would want us here or appreciate our type of food," she said. "I guess we were thinking that people here were more into deep-fried food and that kind of thing. But I think slowly people have been letting us know that Yachats gets all the good food, and we need something that's healthy and nourishing here in Waldport that we can enjoy here while we go out, and we thought, 'maybe this is going to be a good idea.'"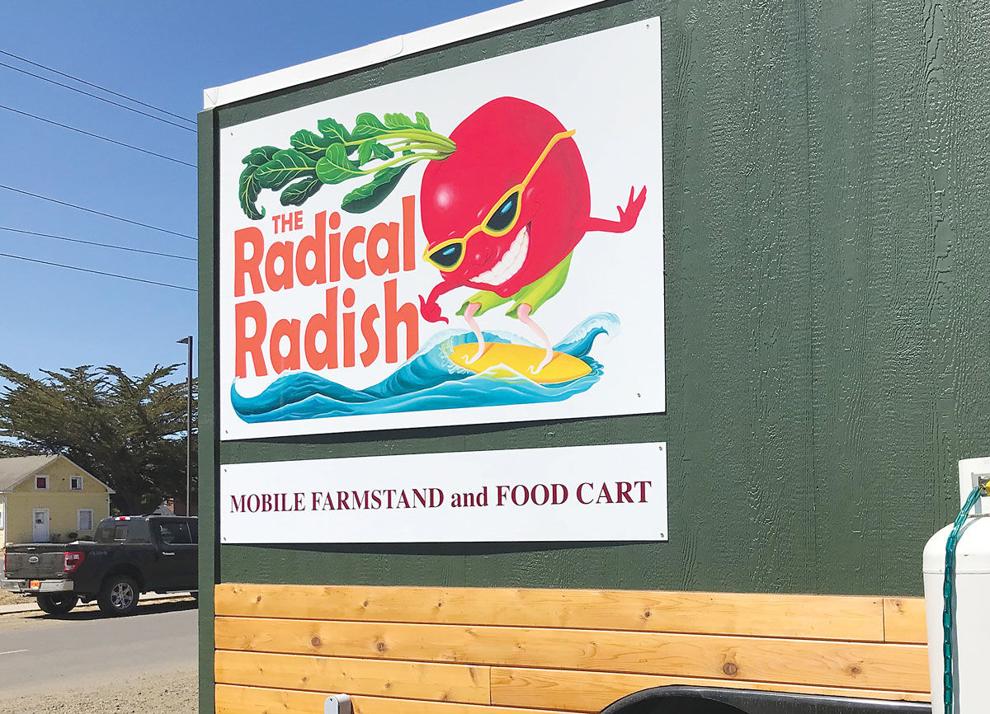 Since its opening in mid-June at 280 NW Hemlock St., directly across Highway 34 from the Central Oregon Coast Fire & Rescue station house, the Radical Radish has been exceeding the expectations of locals and visitors alike with farm-fresh ingredients served from its à la carte menu, as well as its fresh produce for take-home. Its standard hours are from 11 a.m. to 3 p.m., Mondays through Fridays. However, the Radical Radish expects to remain open today (Wednesday) through 7 p.m. to coincide with the Waldport Wednesday Market's last-of-the-month 4 to 7 p.m. hours.
The Radical Radish's à la carte menu features white or brown rice bowls and udon or vermicelli noodle bowls. Each come topped with a seasonal vegetable medley, a choice of sesame-soy, sweet-chili, teriyaki, curry-peanut or Korean barbecue sauces and a choice of farm-raised beef pork or chicken or tofu. The farmstand also offers a fresh selection of grab-and-go meals, side dishes, baked goods, produce and more.
"We've been slammed ever since we opened," O'Neill said. "I couldn't be more ecstatic, and I just feel really good about this. The amount of love that we're getting, from both the locals and the tourists coming through, is really something special."
Emily, a 32-year-old native of upstate New York, and Paul O'Neill, 30, originally from central Florida, met less than 10 years ago after both moved to Bend independently. After Emily was diagnosed with a gastrointestinal ailment, leaving her unable to eat a variety of foods, they got the idea to produce locally grown food options. The Radical Radish is just one element of their grand business venture.
Paul ditched the real estate industry, Emily was in education with an art school, and they purchased the 52-acre Yachats Farm, about six miles inland from the coast, with around 20 acres of farmland irrigated by a rainwater catchment system holding about 100,000 gallons of water.
"Paul owns the farm, and then I own the food truck, so technically I buy my food from Paul, as well as our neighbors," Emily said. "We're working with Yachats Forest Farm right now, and they're a great couple that focuses on raising pigs and vegetables. That's been working out really great, too."
The O'Neills are also working with the Oregon State University School of Natural Resources to help them nurture the farmland into abundant production. Yachats Farm focuses on naturally produced and carefully harvested fruit, vegetables, poultry and forest edibles.
The O'Neills also took ownership of 111 Highway 101 in the downtown Yachats, overlooking both the Yachats River and Pacific Ocean, and they hope in the not-too-distant future to deliver their idea of a farmstand to the site.
"Our goal in the beginning phase is to reimagine and improve upon the community farmstand concept while incorporating a regenerative design with minimal environmental impact," the O'Neills wrote on the Yachats Farmstand website, www.yachatsfarmstand.com.
But for the time being, the O'Neills are focused on their mobile farmstand/food truck in Waldport. Emily says the couple works well together, with Paul handling most of the logistics and Emily doing most of the design work, whether at the farm or the farmstand.
Emily says the welcome the O'Neills have enjoyed from the community has made all the effort they've put into their business worthwhile.
"It's like a natural high after work every day, which is everything I could ever ask for out of a job," Emily said after closing the food cart late last week. "A business owner obviously goes into business to make some profit, but now I almost feel like we're just doing this to feel the love. It's really been amazing and it continues to be amazing."