NEWPORT — Working from her garage in Newport, Danielle Clarice Knudsen of Dark Moon Doughnuts has been serving up delicious doughnuts and other baked goods in Lincoln County for the last two years and is now working her way up the ranks of a worldwide baking competition.
Knudsen is currently top five in her group in The Greatest Baker 2021, an international online baking competition hosted by Alice Fevronia and Sophie Faldo, a 2019 Great British Bake Off finalist and the 2017 winner of the Great British Baking Show, respectively.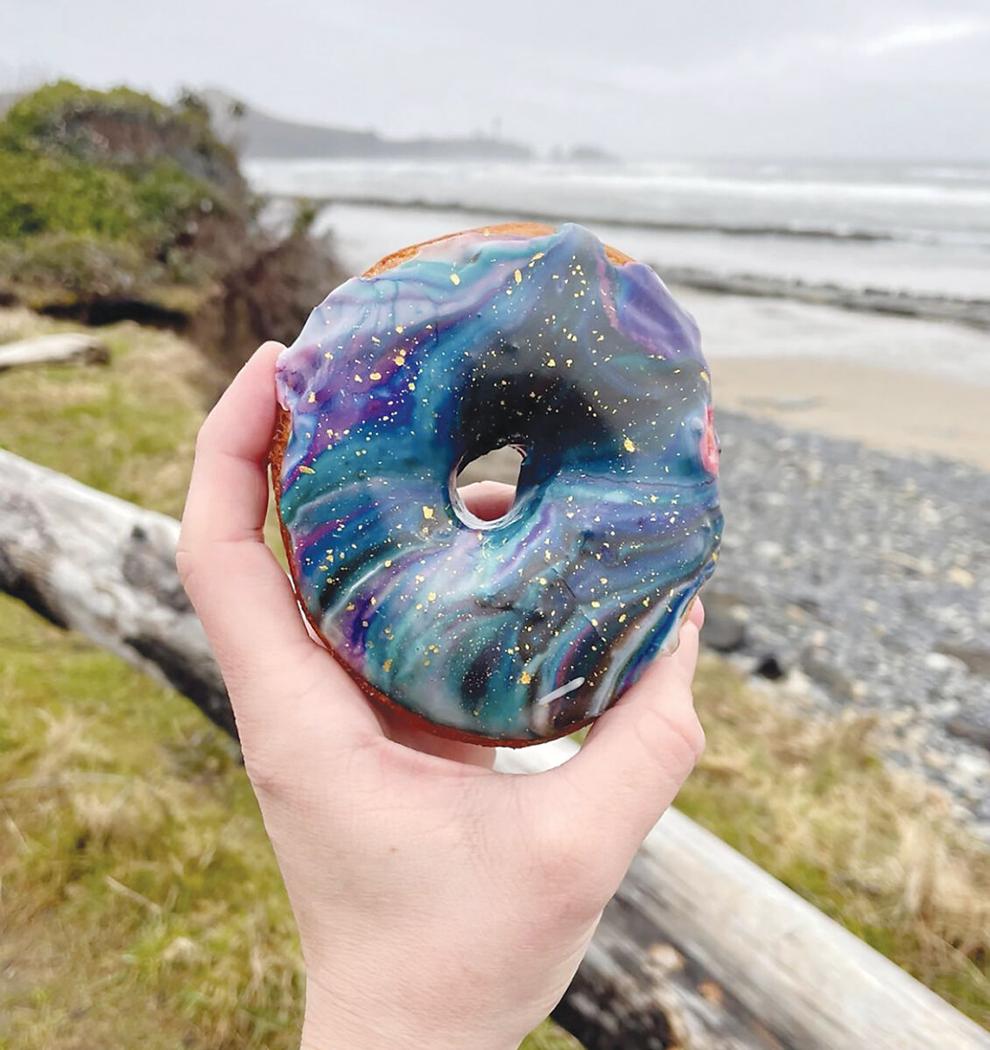 Thousands of bakers from around the world entered the competition and were organized into 250 groups of about 30, now whittled down to five per group. Only one of those five will continue to the next round and face off with finalists from other groups for a shot at a $20,000 cash prize and worldwide recognition. As of Monday, Knudsen was in third place in her group.
Knudsen is a creative baker who provides customers with a catalogue of unique themed doughnuts, such as margarita, s'more, lavender and galaxy, as well as other baked goods. She also makes many of her yeast doughnuts dairy-free and egg free, which she does to help accommodate a wider clientele, such as vegan customers. That doesn't include all the different toppings however.
"I do cakes, cookies, cupcakes, cinnamon roles and all kinds stuff, but I chose to do doughnuts because I feel like no one's really doing them and wanted to capitalize on the fact there aren't really any fresh doughnut shops around here," Knudsen said. "I still switch it up though to keep my creative going and so I don't get bored, but I mostly focus on the doughnuts."
Knudsen said she's been baking for as long as she can remember and takes after her father, who was a chef and baker.
"He let me in the kitchen when I was just in diapers, and it's been in my life for so long I don't even remember when it started," Knudsen said.
While the road to the grand prize will still be a long one if Knudsen advances, if she wins, she said she would use the prize money to help expand her business by opening a storefront and hiring staff. Currently, she has trouble meeting demand and often sells out of the stock she bakes every weekend and is often booked at least two weeks in advance.
Knudsen began selling doughnuts at the Waldport Wednesday Market two years ago and eventually began working with Ultralife Cafe in Newport. In October, she was approached by some investors who wanted to help her open her own storefront, but after six months of searching for a suitable building to house the business to no avail, her investors backed out.
Since then, Knudsen has been baking out of her home kitchen while looking for new investors and a good location.
"I hope to be a lot more creative once I finally have the location and some other bakers to help me. I'm just the only one at this point, so I'm stretched a little thin," Knudsen said. "I'd love to offer say, Halloween doughnuts all year round and do some other fun stuff like that."
If you'd like to support Knudsen, you can vote daily for free through Facebook or make a donation to No Kid Hungry at https://greatestbaker.com/2021/danielle-knudsen. The current stage of the competition ends Thursday.
If you'd like to order some of Knudsen's baked goods, go to darkmoondoughnuts.com and place an order through Facebook or Instagram.