NEWPORT — If you're looking for a drink to compliment your morning workout routine, to chat with other health-minded beachgoers or sub out a daily meal for a low-calorie alternative, consider taking a trip to Nye Beach and check out its newest shake and energy bar.
Bayside Nutrition held its grand opening over the weekend, serving up "energy bomb" tea, protein shakes, iced coffees and other refreshments to passing beachgoers at 735 NW Beach Drive, across the street from the Chowder Bowl.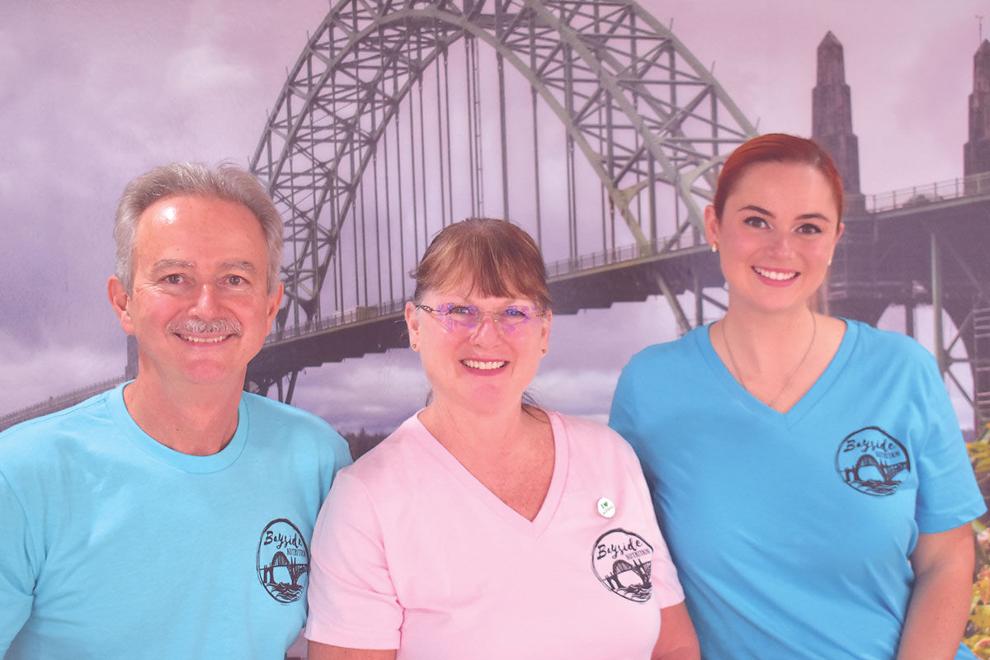 The drink bar is run by Kathy and Randy Davis of Lincoln City, as well as their daughter, Janae Davis, of Waldport. The three have been working to live a fitness-focused lifestyle for the past 25 years and now hope to bring some of that knowledge to Newport visitors and residents alike.
"We've been with the Herbalife nutrition company for the past 25 years and have done most of the business from home until now," Randy said. "What we have now we want to be sort of like a club, a healthy bar that promotes a healthy, active lifestyle. That's what we want, to help make the community healthier and happier, as well as the whole coast with how many people pass through."
Bayside Nutrition's menu features a variety of specialty drinks, with its proprietors offering fitness advice and coaching while helping to match patrons with the kind of drink they're looking for. According to Randy, that could be one specialized for pre-workout energy, post workout recovery, a low-calorie meal replacement or just a good-tasting, but nutritious drink.
"We have healthy shakes in over 101 flavors. We tried to stop there, but I think we actually have more than that," Randy said. "We also have energy teas and protein coffees, with the focus being on healthy energy drinks and healthy meal-replacement shakes. My favorite as a peanut butter lover is our peanut butter and banana shake."
In addition to mixing and serving drinks, the Davis family would like to eventually start organizing morning workout routines with community members, once the tourist season is over.
"It's a little different from your regular smoothie shop because we want to visit with people and start building up a community here," Randy said. "We're really about helping people reach their goals health-wise, whatever that is, and see if we can be a hub for people to connect with each other."
For the summer, Bayside Nutrition will be open from Tuesday through Saturday, from 7:30 a.m. to 3:30 p.m. You can learn more about Bayside on its Instagram page at https://www.instagram.com/baysidenyebeach/?hl=en.