Whether you're looking for new regular clothes for your toddler or searching for the right outfit to dress your newborn for a special occasion, Salty Kisses Children's Boutique in Waldport offers a variety of children's clothing with a hint of southern flair.
Owner and operator Erika Turner spent 15 years buying and selling children's clothing in Searcy, Ark., before moving to Newport last December. There, she works most of the week managing and buying for the Peerless Puffin at Nye Beach, while also running Salty Kisses two days a week from a physical location in Waldport and online via a Facebook group.
Her goal in opening the children's clothing store is to bring the kind of bright and boisterous clothing she was used to in Arkansas to shoppers in Lincoln County, as well as shipping outfits to longtime customers back east.
"What's unique to this area is that back home there were a lot more places that do the same thing I do, but here in Oregon, up and down the coast and as a whole, my clothes are just very different," Turner said. "A lot of people told me that as well, even before I opened the store, which made me a little hesitant at first.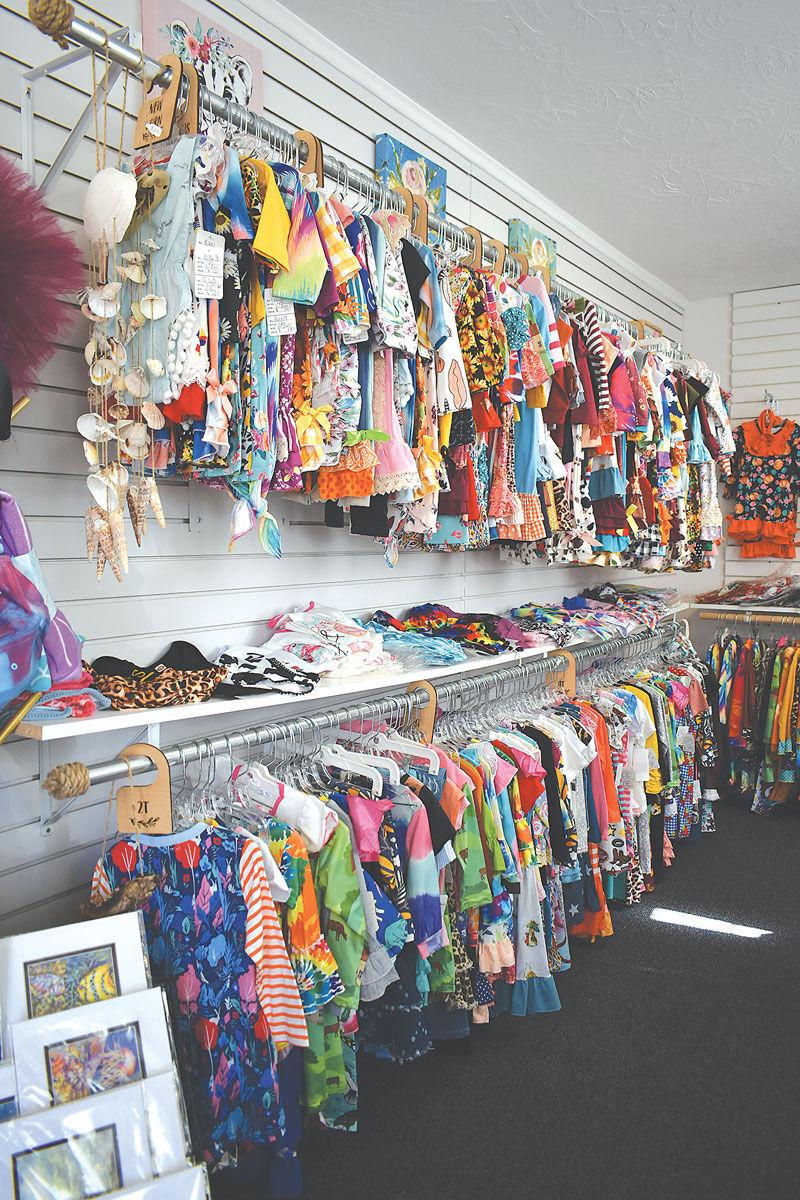 "Here, people seem to prefer a lot more neutral colors, while I offer bright colors, bows as big as a baby's head and stuff with lots of ruffles like I'm used to," Turner continued. "When I first started and opened my Facebook group, however, I sold six outfits in the first two minutes. That made me realize that, yeah, I want to do this and open a store."
Salty Kisses offers children's clothing for girls, newborns to size five, as well as a more middle selection for boys. Turner's stock includes everything from everyday clothing to seasonal and holiday outfits.
"I have six kids of my own, and that's pretty much why I do this," Turner said. "I've been buying clothes forever, but I've been buying and selling the past 15 years."
Clothing is not all the boutique offers, however, as Turner also stocks consignment items from local artists, such as watercolor prints, seashell chimes, rings and greeting cards. She hopes to expand with more gift items like candles soon, as well as matching "mommy and me" outfits through her online store.
Salty Kisses also has a large charity element, with Turner donating an article of clothing to local foster children for each outfit purchased at Salty Kisses. She was inspired to do so after adopting her daughter as a baby and seeing the condition of the clothing she had at the time.
"It's important to me because when we adopted my daughter when she was a baby, all she had was a Walmart bag full of worn out, stained and mismatched clothing," Turner said. "With every outfit that's bought from my store or through our Facebook group online, I make sure to donate an article of clothing to the Hope Chest, which services Lincoln County foster children. I've donated so much by now its almost like they have a whole section of just my stuff."
Salty Kisses is currently open from 11 a.m. to 3 p.m. Wednesdays and Thursdays and will also be opening on Saturdays in the near future. Appointments are also available throughout the week, usually before 10 a.m. or after 5 p.m.
Those who can't stop by at those times can go to the store's Facebook group to view the latest outfits on offer at https://tinyurl.com/4jawveu6
Turner offers shipping to anywhere in the U.S. for online customers.