LINCOLN CITY — After spending 11 years creating art from washed-up trash and touring the country with it to raise awareness of ocean pollution, Angela Pozzi ended her decade-plus journey Saturday by introducing the Washed Ashore sculpture exhibit for the final time at the Lincoln City Cultural Center.
Through the help of volunteers and partnerships with organizations like the Smithsonian, Disney, SOLVE and more, Pozzi has crafted dozens of sculptures reminiscent of various sea life from nearly every discarded manmade item one might find washed ashore. The goal of the project is to inspire people to think more on where their discarded items might end up and encourage them to think carefully about their choices as a consumer.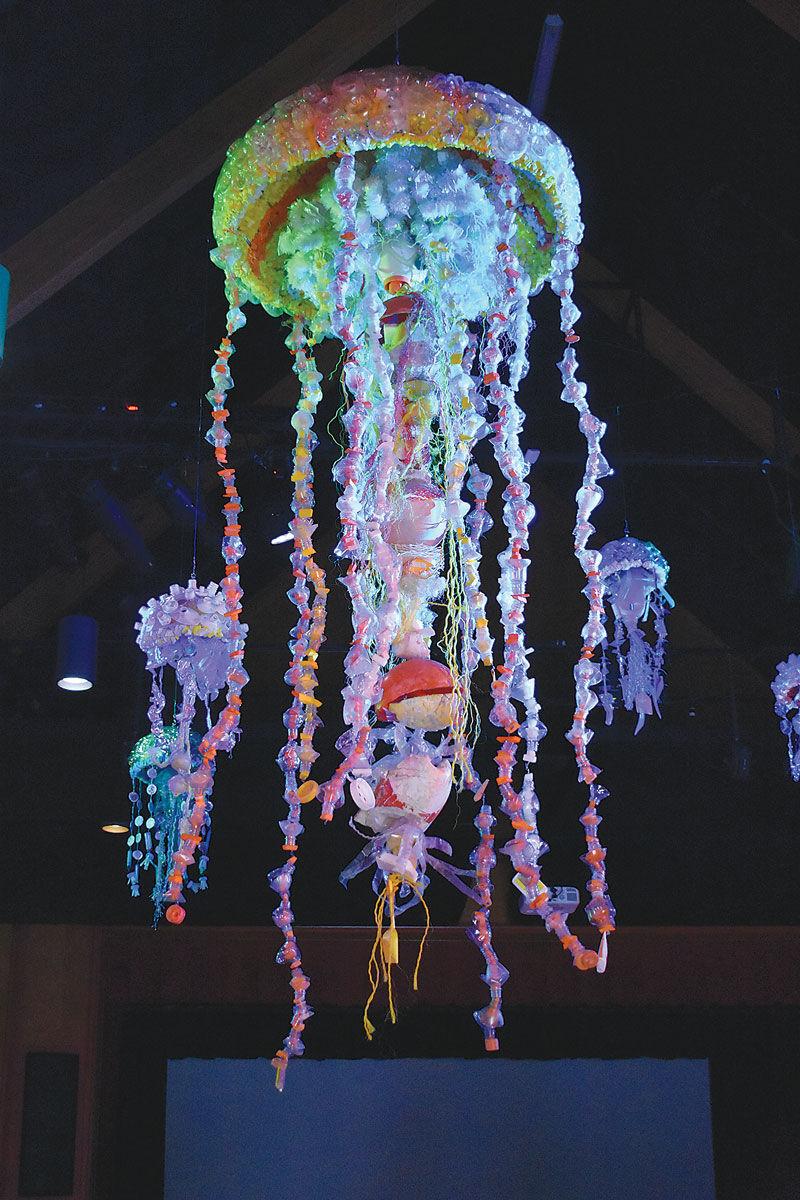 From a giant penguin made of spent shotgun shell casings and strips of rubber to a marlin made of shredded water bottles, cans and fishnets, the vibrant sculptures are meant to first catch the eye and then draw passersby in for a closer look, a goal accomplished easily Saturday as dozens of people pulled off of Highway 101 to inspect the sculptures.
"Everyone loves giant animals, and it's the kind of thing everyone would love to get their picture taken with," Pozzi said. "Part of the idea is to sort of 'lure' people from a distance with the vibrant sculpture and then when they see what they're made of, that's when you can then teach them what it's all about."
To date, Washed Ashore has spent over 14,000 volunteer hours collecting more than 60,000 pounds of garbage from Oregon beaches, 95 percent of which it has fashioned into sculptures for the project's touring art exhibit. Pozzi said she has crafted at least 85 works of art since, not counting smaller, individual pieces of larger art displays. Each piece of artwork includes an information plaque, detailing what the sculpture is made of.
Pozzi began Washed Ashore 12 years ago when she moved to the Oregon coast after losing her husband in 2007. As she walked the beaches near Bandon, she more often than not caught herself walking over different pieces of garbage and eventually decided to do something about it.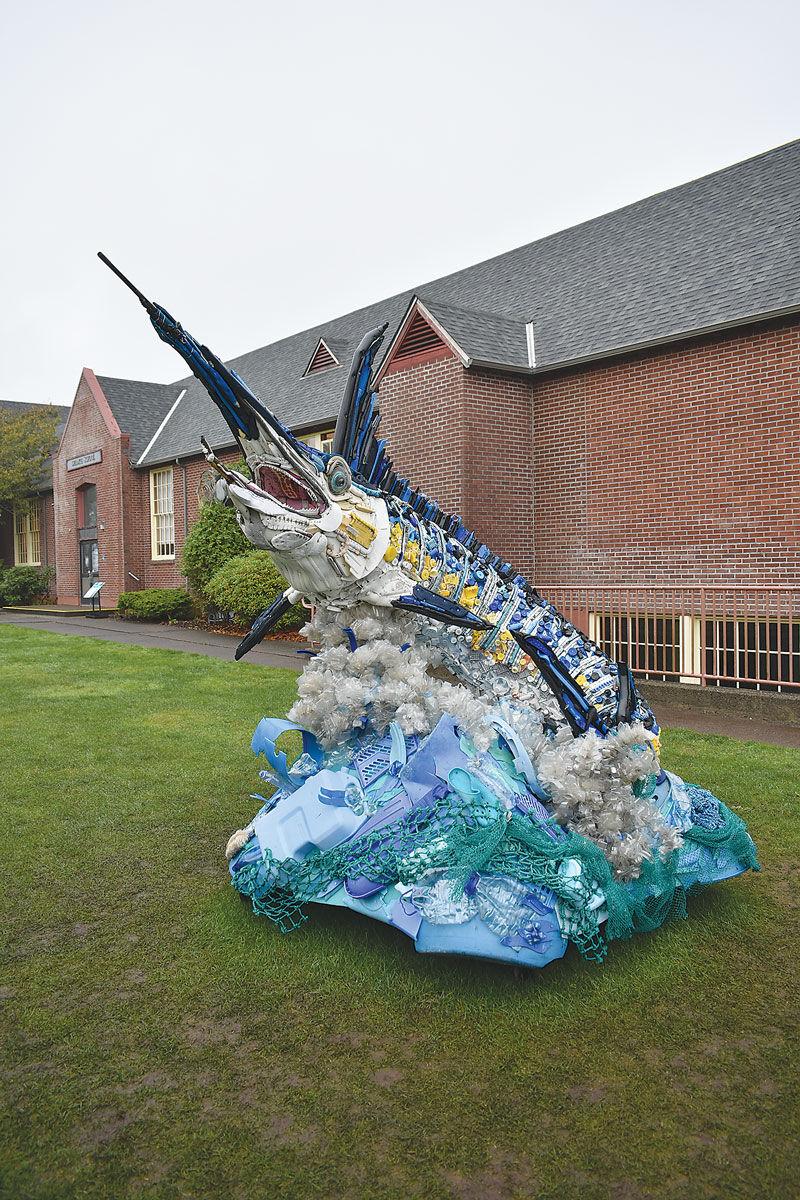 "I moved to Bandon in 2007 after my husband died of a brain tumor," she said. "I was very bereaved and came to the ocean from the Portland area to try and heal really. I walked the ocean beaches every day trying to find a purpose for my life. I had been an art teacher for 30 years, but I was such a mess that I couldn't teach anymore."
"I kept stepping over garbage and just didn't want to see it," Pozzi continued. "I wanted to find beauty and happiness, and instead I was just seeing so much garbage. Then one day I saw so much garbage that I decided it was too much. Suddenly, it hit me really hard and I thought, 'It's the ocean that needs healing, not just me.' I thought that maybe if I could help save the ocean, then that would be something new worth living for."
Pozzi decided to address the issue in multiple ways, one by vowing not to purchase art supplies that may one day end up in the ocean, and two by recycling the junk salvaged from the beach. Today, Pozzi even wears jewelry crafted from ocean plastic.
Hundreds of volunteers have helped Pozzi by sewing portions of Washed Ashore's sculptures onto wire panels and eventually combining them into the huge, one-piece sculptures of various sea life, which have toured the U.S. as a traveling exhibit for the last 11 years. One sculpture has even remained on display at the Smithsonian Institute since 2016
Washed Ashore's first big show was at the Newport Visual Arts Center in 2010, with Pozzi's involvement coming full circle last weekend when she gave her last presentation as the head of the project last Saturday in Lincoln City.
"This is my grand finale, and there's really this nice sort of symmetry to coming back to the Oregon coast," Pozzi said. "It's going to keep going though. I've got a great crew, and really the goal of a good nonprofit is to reach a point where you can just give it away and it will just keep going."
The project will continue on with Pozzi as a consultant, but she will be moving on to other endeavors, which include starting a business with her daughter to help promote environmental-friendly clothing.
Washed Ashore will remain on display at the Lincoln City Cultural Center at 540 NE Highway 101 for the next six months. Visitors are welcome to visit the center and view the outside sculptures anytime, while the indoor sculptures can be viewed during operating hours from 10 a.m. to 4 p.m., Thursday through Sunday.
To learn more about Washed Ashore, go to www.washedashore.org.