While he has a master's degree in fisheries science and worked for years in animal husbandry, these days Bruce Koike of Newport finds particular enjoyment in the art of Gyotaku.
"I don't have an art background — I wasn't tuned into it," he said, adding that if he had to label himself, he would be a "stick figure drawer." But in graduate school at the Oregon State University Hatfield Marine Science Center in Newport in the summer of 1985, he saw people making fish prints.
"It looked neat to create art from dead fish," he said. "That was pretty intriguing to me." He tried the art form himself, and was — no pun intended — hooked. Decades later, the self-taught artist is known for his fish prints, which he continues to make today.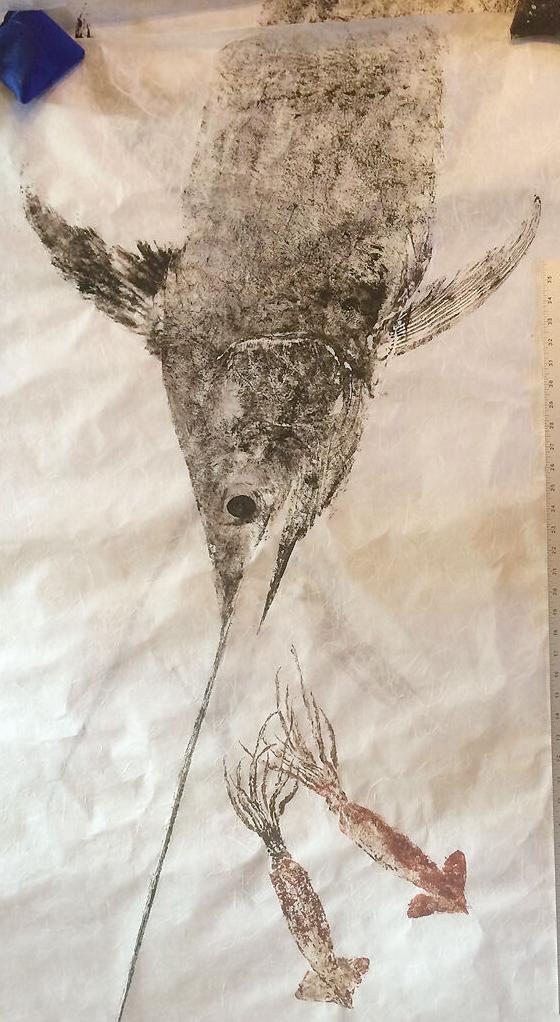 Koike explained that the literal translation of Gyotaku is "fish rubbing," which is what takes place to get the image of the fish onto paper.
He uses mostly non-toxic acrylic paint and rice paper for his prints. Asked if the fish can be eaten after it is used for printing, he said that's definitely possible, noting the paint does not penetrate the fish skin and can be rinsed off.
Additional prints can be made from the same fish at a later date if the fish is carefully encased in plastic wrap and frozen. Koike said rockfish, with its thick skin, firm flesh and heavy scales, is ideal for repeated printing.
The print is made by directly applying paint with a brush to a thawed or fresh fish that has been carefully dried, then laying rice paper on top, gently rubbing it over the fish and removing the paper. Koike noted, "although these are direct prints, they don't smell like fish!
"All of our atmosphere has some degree of moisture," he said. "If you tried to print with a frozen fish, it would be too moist. It has to be thawed. You want to use a dry surface.
"And you use a lot of paper towels," he added. "You want to remove any standing water on the fish."
Koike said in an hour's session, about three prints can be made. "So it takes about 20 minutes to prepare the surface, prepare the paint, do the rubbing and allow it to dry," he said. "Then you have to paint the eyes to finish the print.
"Painting the eyes makes the print come alive," Koike added.
Another aspect of the art form is the flexibility it allows for how to orient the fish on the paper — whether to use it on its side or on its back, for example.
And ever the fish scientist, Koike said, "You can highlight the fish and put it in context by keeping it alone on the paper, or placing it with multiple fish in a school, or in a predator/prey interaction." Habitat such as algae, kelp or rocks can be added as well — all applied with the same printing technique.
Whether the print is monochrome or multi-colored also can be a factor in the finished piece. Sumi ink — finely ground charcoal — is traditionally used in a monochrome print.
Koike noted that Gyotaku's origins date back to tales of Japanese noblemen in the 1800s. He teaches the art form through the community education program at Oregon Coast Community College (OCCC) and this fall will teach two sessions — one in Lincoln City and one in Newport.
"Fish printing is a cool activity," he said. "It goes hand in hand with community outreach."
Koike has not confined himself to printing fish. He has printed what he estimates to be more than 400 species of what he terms "critters," ranging from the American lobster to the Dungeness crab to the spot prawn. He has also printed a road kill squirrel, but said he did not have the good feeling of satisfaction from that latter piece.
Koike's goal is to reflect the design and beauty of fishes. "Gyotaku is the perfect medium to reflect the dynamics of aquatic life," he said, stating on his website, "Gyotaku can highlight the individual fish, illustrate interactions of multiple fish, or illustrate the specific habitat where the animal lived. Regarding the anatomy of the fish or invertebrate, (I seek) to display the organism with a sense of realism."
While Koike's education focused on fish pathology, he worked with the public wing of the animal collection at the Hatfield Marine Science Center, leading him to a career direction in animal husbandry. After graduation, he worked at the Aquarium of the Americas in New Orleans from 1990-98, and at an event there, made his first sale of a fish print, this one of a speckled trout.
He later worked as director of husbandry at the Oregon Coast Aquarium in Newport, and from there worked at Oregon Coast Community College, playing an instrumental role in developing the aquarium science programs at the college, as well as the aquarium science building at its Newport campus. He served as interim president of OCCC for 2-1/2 years.
For the past 3-1/2 years, Koike has devoted his time to his artwork and to commercial fishing. He has an 18-foot boat and fishes with rod and reel for lingcod to sell to Local Ocean on the Newport Bayfront. His wife, Mary, formerly a Lincoln County School District science teacher, is now an assistant principal in the Bend-La Pine School District, and they travel between Bend and Newport.
Koike, who frames his own prints, often taking Mary's suggestions about color, predominantly sells his work in person — from his website and from events such as the Newport Seafood and Wine Festival, restaurants such as Blackfish Café in Lincoln City, and science conferences and trade shows he attends. In addition to his prints, he offers T-shirts, aprons and handmade cards.
For about a decade he has also been creating stainless steel metal sculptures of skeletal fish — basically prints of a fish carcass, both delicate looking and detailed. After creating the image with CAD (Computer Aided Design) technology, he takes his work to a plasma cutter at a metal shop.
"I'm still actively printing at my home studio," he said, noting he has several chest freezers of specimens ready to be printed. He obtains fish from his public aquarium colleagues, research scientists, commercial and recreational anglers and Asian markets, and occasionally catches the fish himself.
"I feel good when I'm doing fish printing. It's a release from stress. And I've derived enjoyment from the fact that people see my work and say they had no idea this kind of thing could be done."
Still in his possession is the first Gyotaku print he created – a pile surf perch. "What hooked me on the art form is that when I did it the first time, it was not an eyesore," he concluded with a laugh.
Koike's art can be seen at Little Pond Nature Prints in Newport at https://koikebruce.wixsite.com/koike-fish-prints.