"I get to do something that I feel is positive in the world. I'm not just working to pay bills and buy things. I want my work to make a difference, for people to see animals in their natural environment and to feel the love to nurture and nourish them."
That's how Leighton Blackwell looks at the detailed fish paintings he has been creating for the past 10 years, an offshoot of his experiences spearfishing.
Blackwell, 35, did not set out to be an artist. Raised in the Beaver Creek area of south Lincoln County, where his parents still have a home, he remembers attending anti-spray meetings in Seal Rock.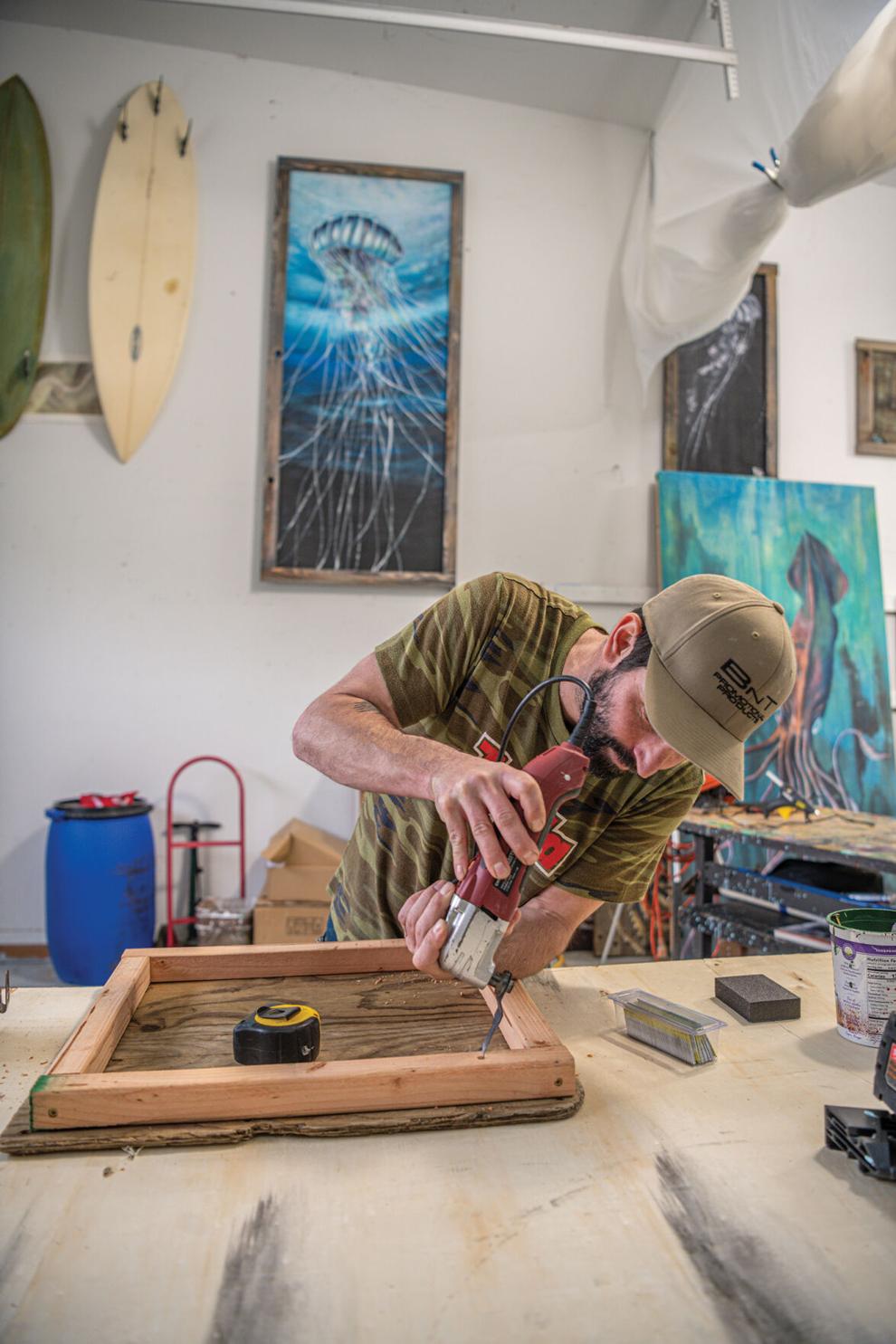 Blackwell later moved to Eugene and began working in leather, making backpacks, shoes and boots and teaching leatherwork classes at the University of Oregon Craft Center.
Then a friend introduced him to spearfishing, and Blackwell said that after 20 minutes in the water, he knew he wanted to do it again. "Now I usually come home with dinner," he added.
He began painting his catch on wood in the Gyotaku — fish printing — method. These days he paints fish directly on the wood and no longer does Gyotaku. His paintings bring home in detail the creatures of the ocean, with varying shades of blue capturing the underwater ocean.
"I shore dive — I go into the water to hunt the fish," Blackwell explained. "I find safe access, make sure I'm not in a protected area, and climb into the water from the rocks. I like to get off the beaten path."
He wears a mask, snorkel, thick wetsuit and weights and carries an underwater flashlight, taking a breath to get under the water to be with the fish. He follows this pastime along the Pacific coast from Oregon to Santa Barbara, Calif., and he was in Tampa, Fla., during the interview for this story.
Most commonly he spears rockfish and greenling. Sometimes he will use a hook and line to fish for trout, salmon or steelhead, and sometimes he'll get a chance to go deep-sea fishing.
"And sometimes commercial fishermen will give me a really interesting fish they've caught — they'll let me paint it and then I give them the fish back and maybe a print," he said. "I love meeting new people through my hobby that's turned professional, and sharing the passion.
"It brings up a mix of emotions," he said of spearfishing. "It's such a beautiful moment when you hold your breath and go into the water. You wait for the fish to come along — either they're curious or they don't see you and just swim in front of you.
"You're surrounded by water and it's peaceful, but it's also heart pounding — the feeling changes so fast from observing the underwater creatures," he explained. "Sometimes I leave the speargun on shore and take a camera instead, and that makes for a purely relaxing experience. I've never gotten out of the water bummed out. It's always an adventure, always exciting."
One day, in a South Beach studio he shared with a painter friend, Blackwell suggested adding fish to an underwater seascape mural his friend was creating. "So I rubbed a fish over it, and we liked how it turned out," he recalled. After that he began doing fish rubbings, Gyotaku, on T-shirts, which sold well.
He went on to supersize his fish prints and put them on wood, and those sold as well. He displayed his work at the former Ozone Fine Art gallery at the Abbey Street Pier on the Newport Bayfront, took part in a show for younger artists at the Newport Visual Arts Center, and ended up with plenty of commissions.
He calls Ozone co-founder Karen Britt his mentor. In his first show at the gallery, he sold five of his seven paintings on opening night.
"Eight or nine years later, I'm busier than I ever imagined," Blackwell said. He does not have a website and calls social media his working portfolio.
These days he spends his time working on commissions. He doesn't work in leather anymore and admits to missing it sometimes. That could change — he still has his leather sewing machine and most of his tools.
And although Blackwell is self-taught, when he was a student at Newport High School he took classes from art teacher Richard Wiesner, whom he called "amazing; he was a positive influence on me.
"I had an appreciation of art growing up but I wanted to be a professional athlete, maybe in snowboarding or water sports. I wanted to be active and outdoors and get paid for that," he recalled, adding, "I'm achieving some of that now. I'm outside getting fish and then turning the fish into food."
Blackwell describes his work as mixed media, acrylic on wood. He often lets the wood come through the paint, and incorporates metal, old boat hardware, epoxy and glass — and perhaps old binocular lenses he makes into the eyes of a fish he is painting.
"They add another dimension to my art," he said of found objects. "I love using driftwood and love walking the beach after a storm and finding pieces of a boat," he said. "Driftwood works great for framework. I run it through a bandsaw or a table saw. And I use old fences with their sun-bleached cedar boards. They're good for frames.
"I use old wood because it's free, and I often get free paint from the dump or from friends — there's a stark contrast between the new paint and the old, stressed wood," he added. "I love doing my best to bring them together."
Now he has a new tool — a welder-plasma cutter combination — and hopes to do more three-dimensional work outdoors, incorporating lights and water features, rather than being confined to his studio. Painting and the outdoors blend together for Blackwell.
"I'm an outdoor person, and I need to be outside," he said. "I gain a lot of inspiration from nature, from being in the wild. And experimenting with new techniques keeps me interested."
While Blackwell has painted landscapes, animals, birds, trees and leaves, his primary subject matter is fish. "I like simple subjects and am not big on busy paintings," he said. "I like zooming in on just one fish, or even a fish tail or eyeball.
He said his work process is simple, noting, "I spear the fish, photograph it, paint it, fillet it and eat it. It's a sweet little circle. I get exercise, get food, express myself creatively, and can do it again by selling the expression of all of that in my painting.
"And I hope that my work brings about more awareness of the environment and the life that we all share," he concluded.