"Any time I go out, there's always something in the environment that intrigues me, that strikes me as interesting," said artist Ivan Kelly. And that special something is likely to become the subject of his next painting.
Kelly, whose home and studio-gallery are at 207 E Graham St., in Toledo, has been painting for most of his life. He is a native of County Antrim in Northern Ireland.
"As a youngster, I was always drawing pictures of things that interested me, although I didn't bother much with it as a teen," he said. "My earliest memories from my Northern Irish homeland tell me I have always been an artist at heart."
And his focus on landscapes and the creatures that inhabit them? "Surely it was a childhood spent roaming the fields, woodlands and coasts of that beautiful and diverse country," he said.
Kelly emigrated in 1972 to Canada and lived with his brother, a professional wildlife painter. "I began taking my easel and paints outside, where I soaked up the moods, subtleties and characteristics of different landscapes," he recalled. "I made the decision one day that I was going to be a painter. That was about 50 years ago, and I haven't quit painting since then."
Much of his painting has been in the Canadian Rockies. Kelly lived in British Columbia, east of Vancouver, for about 20 years, and said he learned his painting skills from his brother and from observing the work of other artists — and from creating "hundreds and hundreds of paintings.
"Back 50 years or so there were no such things as painting workshops, so I learned by observing and doing," he said. "I set a standard for myself, and that's what I've tried to emulate. I love everything about painting and made the decision that was what I was going to do — and I stuck with it."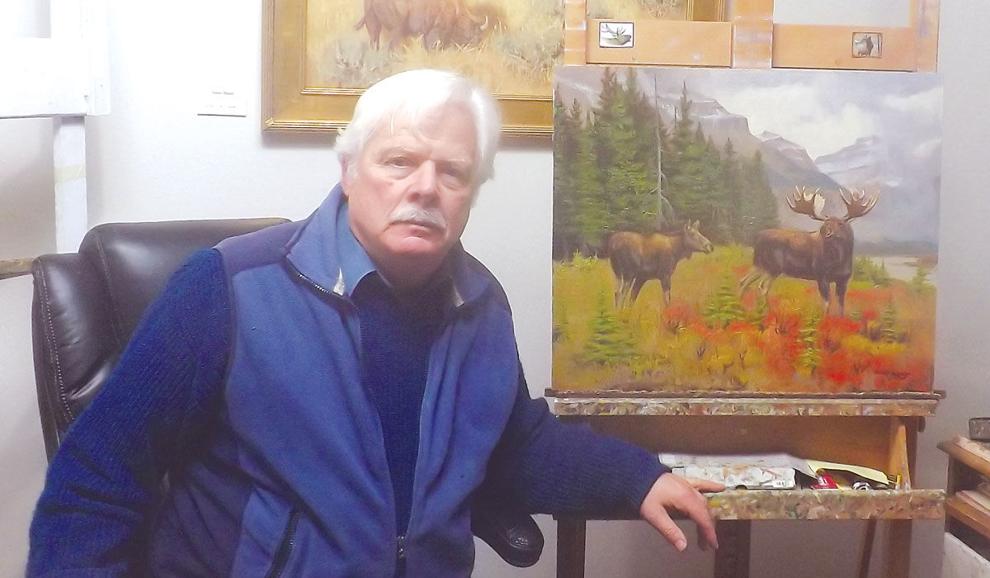 In the late 1970s, he began painting outdoors. "In those days, hardly anyone was doing that, and it was simply called 'painting outdoors,' not plein air," he said. "I got to know the color and atmosphere, and in my studio, I put animals into the landscape. I would take horseback pack trips into the Rockies and make notes and take photos.
"In those days I used slides, and I still use those slides to this very day," he explained. "I also visited game parks and zoos to study the animals — those studies are a very important aspect of my painting. And a few years ago I went back to taking trips to Yellowstone and the Rockies."
He met his future wife, Sharon, at a wedding of a mutual acquaintance in Canada, and moved in 1992 to Toledo, where she had family. He opened his gallery for Toledo Artwalk in 1994.
And he fell in love with the Oregon coast. "The Pacific coastline is more like the Irish coastline than British Columbia was," Sharon said.
Kelly said his initial goal was to paint big game animals, and the Canadian Rockies were prime habitat for those large creatures. But he discovered the landscape itself was just as important.
While Kelly continues to paint big game animals, he has also found local material to inspire him up and down the coast. "As time goes on, even the simplest subject gives me inspiration to do something with it," he said.
"With experience, I put more of myself into the subject — it's like painting something the way you'd like it to be, rather than as it is," he added.
Kelly has also created clay models that allow him to study how light and shadow fall on an animal in the wild. "Often a photo won't give me all the information I want, so I can take a clay model and put it into the sunshine to get a truer picture of how light would fall on that animal," he explained.
When he paints the Oregon coast, he looks more to the beaches and rocks, rather than the ocean itself. "I do not paint much of the waves; I find the beaches and rocks and driftwood more interesting," he said.
Kelly recently completed a painting of a grizzly bear in the Canadian Rockies and has set up to paint Bighorn sheep. He also recently finished an early morning scene outside Toledo, with early light and fog in the background. "I love that subject and plan to do more with morning light hitting some of the trees," he said. "It's subtle but dramatic."
After taking photos and writing notes, and jotting down some rough designs, Kelly said, "that's all I need to go back to my studio and put it together."
Kelly, who works only in oils on canvas board, has been a signature artist member of the American Society of Marine Artists since 2000, and has exhibited at the society's annual shows and tours. He has been juried into the Allied Artists of America show as well. A collection of his marine oil paintings of the Pacific Northwest, donated by a local collector of his work, is in the permanent collection of the Pacific Maritime Heritage Center in Newport. Corporate collectors include McGraw-Hill Companies, Inc., in New York.
These days, Kelly is painting as much as he always has, and said he plans to do so "as long as I'm physically able." He has no interest in retiring.
"Painting is kind of an intellectual challenge," he said. "There's always something new to paint, and I'm always trying to get better. And it's very gratifying to have people buy my work. I've found something where I can be good at it. I've achieved some level of success and thank my buyers. The fact that someone wants to buy what I've created is an impetus to make more."
For information about Kelly's gallery, call 541-336-1124. The Ivan Kelly Studio-Gallery at 207 E Graham St., is open the first weekend of each month from 11 a.m. to 4 p.m. Saturdays and noon to 4 p.m. Sundays, and by appointment. This month it will be open Saturday, May 1 and Sunday, May 2.